« Obituaries | Francis Edward Giamette
Francis Edward Giamette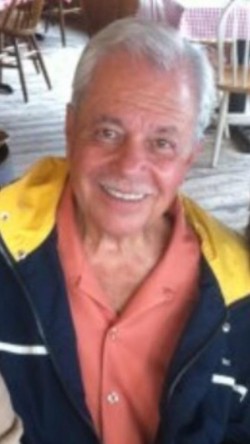 Date of Death: October 1, 2017
Date of Birth: February 10, 1933
Biography:
N. YARMOUTH - Francis Edward Giamette, 84, passed away at home in Maine on October 1, 2017. He was born February 10, 1933 to Vera (Melchionde) and Patrick Giamette in New Haven, CT. On September 1, 1956, he married the love of his life, Dolores Perfetto, who predeceased him in 2001. Francis is survived by his nine children: Lisa Giamette, Amy Sprague, Marisa Cardillo, Nancy Brown, Christopher Giamette, Stephanie Spears, Janine Selburg, Timothy Giamette, and Samantha Hayes. He also leaves behind 16 grandchildren, nine great- grandchildren and his brother Edward (Dorothy) Giamette.

Fran was a loving, supportive, thoughtful husband and father. After graduating from high school in New Haven, he attended Temple University. Interested in the dramatic arts, he volunteered for the male roles in plays at Albertus Magnus College, an all-girls school. There he met Dolores, and they eventually married and produced his wonderful family. After leaving Temple, Fran pursued his entrepreneurial dreams, starting with a hat shop, then developing several of his own enterprises over the years. In addition, he worked in management for several well-known companies, including Gimbel's department stores and the Boston Garden. He was a vibrant and intelligent man, never had to use a calculator, and was knowledgeable in all he took on.

As a father of seven girls and two boys, Francis was inspirational and loving. He raised his children to be kind and generous, and also to believe in themselves and go after what they desired. He believed if you worked hard at something, you could accomplish it.
Francis enjoyed playing cards, traveling (especially to the beach!), and working on mind puzzles to stay sharp. He was always the first to do the daily crossword and Sudoku puzzles in the paper. His love of card playing sometimes led to games that lasted late into the night.

Francis had many friends across the country but especially in FL, IL, ME, and CT. Many still speak highly of him in fond remembrance. He will be missed by all who knew him, but his life will be celebrated for the lasting impressions he has left behind.
A private family funeral will be held in Connecticut at a date to be determined.

In lieu of flowers, memorials may be made in Francis' name to the Alzheimer's Association Maine Chapter, 383 US Route One, Suite 2C, Scarborough, ME 04074.