« Obituaries | Reginald Irving Getchell
Reginald Irving Getchell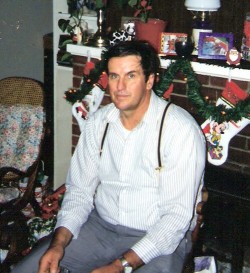 Date of Death: January 22, 2013
Date of Birth: June 11, 1947
Biography:
Augusta-Reginald Irving Getchell, 66, died Tuesday morning January 22, 2013 after a long battle with Parkinson's disease, with his family by his side.
Reggie was born in Lewiston on June 11, 1947. He is predeceased by his father and mother; Merle and Elizabeth Clark, and a sister, Dariel.
He graduated From Gardiner Area High School in 1966 where many will remember him as Lurch. Number 71 on the Varsity Football Team, one of his biggest heartbreaks in life was loosing the "Cony-Gardiner" football game his Senior Year!
Reggie served in the Navy as a Machinist Mate from 1967 – 1969. A hard worker his whole life; he worked for Pratt Whitney, Mann Construction, Wallace Construction, Centex-Simpson and Blair Construction of North Carolina to name a few.
Reggie made an impression on everyone he met, and had quite a sense of humor. He loved to tease and joke. He was an avid NASCAR fan and loved to fish. He had fond memories of fishing on Cobbossee stream with friends and family. Many special memories were made on trips to Muscongus Bay to enjoy friends, family and lobster!
He is survived by his wife, friend and soulmate; Mary; married 27 years, a brother Carl and sister-in-law Margaret and his sister Donna, his children, Steven, daughter-in-law Colette, Lorana, son-in-law Al, Rebecca, Jason, daughter-in-law Joyce. The grandchildren; who lit up his life and lovingly referred to him as Grampa; Bunky, Branda, Samantha, Katie, Tony, Vanessa, Jake, Brandon, Brent and Ella B. Special friends, Harlan and Judy Brown, Maggie Ricker, as well as many nieces and nephews. All who knew Reg loved him and he will be dearly missed.
Reggie requested there be no formal services. There will be a celebration of his life during warmer weather; friends and family will be notified. In lieu of flowers the family requests that donations be made to The National Parkinson Foundation, Inc. (NPF), PO Box 5018 Hagerstown, MD 21741-5018.
The family would like to thank the doctors and staff of Augusta Rehabilitation who treated Reggie with dignity, respect and love, making his journey a comfortable and caring one. Thank you to Pastor Rob Richard of Fellowship Baptist Church for comfort and prayers.