« Obituaries | Robert Oscar Gauvin
Robert Oscar Gauvin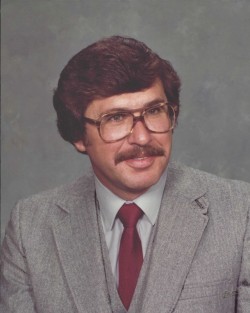 Date of Death: October 21, 2023
Date of Birth: April 22, 1935
Biography:
Lewiston- Robert Oscar Gauvin, 88, passed away on Saturday, October 21, 2023 at Clover Manor in Auburn after a short stay.
Robert (Bob) was born in Lewiston Maine to Antoinette Boulay-Gauvin and Arthur N. Gauvin.  Bob grew up in Lewiston and would reside there all his life.  He graduated from Maine Central Institute in Pittsfield in 1954 and then attended and graduated from the Auburn Maine School of Commerce in 1956.  He served in the Maine Army National Guard from 1957 to 1962, being called to active duty in 1961 during the Berlin Crisis.  Upon his return to Maine, he managed the Plaid Stamp Store on Main Street, in Lewiston, for several years, then settled into a career as a public accountant and property manager.  Bob was also a licensed real estate broker for many years.
Bob married Claudette Dutil in 1962 and they raised three children.  He was very active in his community.  Bob was the campaign director of the 1971 March of Dimes, and as was instrumental in developing the Lewiston-Auburn Annual Walk-a-thon.  He was also a member of the Lewiston-Auburn Jaycees and the Lewiston Lodge of Elks, serving in leadership roles in both organizations.
Bob was known for his gift of gab and his many unique sayings.  In his later years, he enjoyed many summer days on his boat, fishing and enjoying the water along the coast of Maine.  Bob was an avid hunter and snowmobiler for many years.
He is survived by his wife Claudette, of Lewiston, his daughter Pamela Dube and Husband Mark of Leeds, son Steven of Litchfield, son Matthew of Lewiston, granddaughter Kelsy Allen and husband Gage of Greene, grandson Jason Tremblay of Lewiston, great-granddaughter Brailee Allen of Greene, sister Claire of Lewiston, and a brother David and wife Dianne of Brewer, Maine.
He is predeceased by brothers Arthur and Paul.
A Mass of Christian Burial will be at Holy Cross Church, 1080 Lisbon St, Lewiston, Maine at 11:00am on Friday, November 3rd to be followed by a committal ceremony at St. Peter's Cemetery on the Switzerland Rd in Lewiston, Maine.
The family would like to thank the staff of Androscoggin Home Health & Hospice Care and the staff at Clover Manor for their wonderful care and compassion.
In lieu of flowers, donations can be made to the St. Jude Children's' Research Hospital in honor of Robert at www.stjude.org or another charity of your choice.