« Obituaries | Paul B. Gauthier
Paul B. Gauthier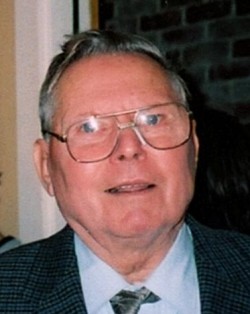 Date of Death: October 3, 2016
Date of Birth: October 10, 1934
Biography:
Paul Bertrand Gauthier, 81, of Greene, Maine passed away at the Hospice House with his family by his side on October 3, 2016 following an extended battle with Alzheimer's
Paul was born October 10, 1934, a son of Oreo Gauthier and Florida "Boisvert" Gauthier.
He grew up in the Auburn area and attended Edward Little High School, graduating with the class of 1952. While in high school he enjoyed sports especially football.  
In 1957 he joined the USAR 41st Engineers (United States Army Reserve) as a welder and blacksmith where he served thru 1963 at that time receiving an honorable Discharge.
Paul, upon his return home, initially worked for Lewiston Welding, and then went on to pursue a profession in plumbing. Paul received his master plumbing license and worked for Harry E Nason, Eastern Energy and Thayer Corporation. Paul was an inventor. He and his brother Richard invented one of the first wood boiler systems over 40 years ago.
Paul enjoyed his family and friends; he enjoyed telling stories as he was "always the entertainer", socializing with friends and family. Paul was proud of his Indian heritage, and was a loyal and devoted husband and father.
Paul was predeceased by his parents Oreo and Florida Gauthier, several brothers Robert and Paul A. Gauthier, a sister Jeanette Roberts, a brother in law Claude Roberts, and a great nephew Michael Beaulier.
He is survived by his loving wife Pauline "Dostie" Gauthier, his son's Paul M Gauthier, Patrick
Gauthier, his daughter Cheryl Strout and Husband Armand, daughter in law Lynda Gauthier, 3 grandsons, Kenneth, and Heath Gauthier, Oliver Strout, and 2 great grandchildren Alivia and Conner Gauthier. His brother Richard Gauthier, sister Connie Chicoine .sister in law's Angie and Doris Gauthier and many nieces and nephews
Visitation will be held on Wednesday, Oct. 5th from 6-8pm, at Funeral Alternatives, 25 Tampa Street Lewiston Maine. A Mass of Christian Burial will be celebrated 11 Am at Holy Family Church on Friday Oct. 7th,  Sabattus Street, Lewiston.
In Lieu of flowers please send donation to the Alzheimer's Society of Maine
383 US Route one #2C, Scarborough, Maine 04074 an/or the Androscoggin Hospice House c/o Androscoggin Home Care and Hospice 15 Strawberry Ave, Lewiston, ME 04240
Services are under the care and direction of Funeral Alternatives, 25 Tamps St. Lewiston, ME www.funeralalternatives.net