« Obituaries | Robert F. Gaudette Sr.
Robert F. Gaudette Sr.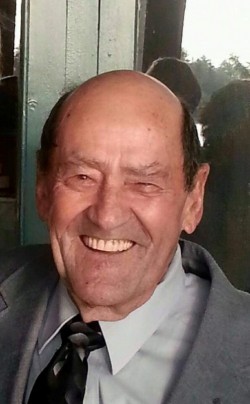 Date of Death: July 27, 2015
Date of Birth: October 23, 1935
Biography:
Robert F. Gaudette Sr.,79, of Biddeford,  died on July 27th, 2015 at his home surrounded by family and friends.
 He was born on  October 23rd, 1935 the son of Rolande (Lemieux) and Laurent Gaudette.
Known to many as Bob, Bobby, Robert, Dad, Pepere, Uncle Bob. There seemed to always be something behind the twinkle in his eyes.  He is remembered for his love for all, his infectious smile, his spunk, strength, determination and kindness.  Many learned from him how to be better people simply by his example "and what-not".   
He was a member of the Fraternal order of Eagles, Knights of Columbus, and the Bricklayers, Masons and Plasterers International Union of America
He enjoyed spending time in the outdoors with his wife Lynne, kayaking, hiking, and snow shoeing in the White Mountain area.  He also spent many hours in the company of his children and grandchildren who were the light of his life.  He was an excellent swimmer and diver and enjoyed teaching his nephews, nieces, sons and grandchildren how to perform a jackknife and one-and-a-half off of the diving board at the family camp on Granny Kent Pond.  He was an amazing dancer, avid horseshoe player and harmonica player.  He volunteered for the last eight years playing his harmonica for the residents of Seal Rock Healthcare on Wednesdays.
He left school early to work in the Pepperell Mills to help support his family.  After a few years he left the mill to pursue his ambition of being a bricklayer.  His career started as an apprentice bricklayer and mason for various local contractors in the Biddeford/Saco area.  After joining the local union in 1963, he began working for commercial contractors in the Portland area.  He spent numerous years working for Tony Galli Construction where he was instrumental in completing the Portland Museum of Art's circular brick façade along with several schools, hospitals, and Portland downtown landmarks.  In the mid 1980's he began work for Allied Construction and retired in 1997.  During his career he also built numerous fireplaces, brick steps and various other masonry structures for friends and family.  He was an inventor and designer, obtaining a patent for his invention related to installing flu liners in chimneys.
He was predeceased by his first wife Therese (Fecteau) Gaudette, brothers George, Paul, Raymond, Conrad and sister Georgette. 
He is survived by his wife Lynne Pontius Gaudette: sons Robert Jr. and wife Claudette, Guy and wife Michelle, Donald and wife Lucille: and daughter JoAnn Martin and husband Steve.  He also leaves many beloved grandchildren and great grandchildren, nieces and nephews.
There will be a private celebration for family and friends.
In Lieu of flowers, donations in his memory:
            Hospice of Southern Maine
            180 US Route 1
            Scarborough ME 04074