« Obituaries | Elizabeth "Libby" Lyde Davis Gaston
Elizabeth "Libby" Lyde Davis Gaston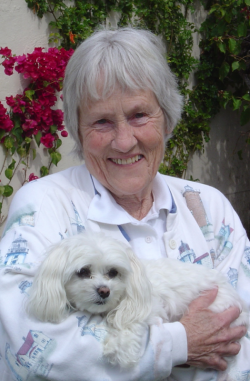 Date of Death: July 10, 2015
Date of Birth: December 21, 1932
Biography:
Elizabeth "Libby" Lyde Davis Gaston, age 82, of Yarmouth, Maine, peacefully flew from this life at home surrounded by her loving family on Friday, July 10th, 2015, from lung cancer.
Believing firmly in true quality of life, Libby declined medical treatment following her diagnosis in April 2015 and spent her final months relishing in her deepest passion – her family. She loved her husband, children, and extended family intensely, taking great joy in their happiness and pride in their accomplishments. An incredibly resilient woman of deep values, fierce independence, steadfast loyalty, and practical Yankee frugality, she exemplified the power of optimism, faith, and compassion with each day.
Though considered a perfectionist in everything she undertook – gardening, sewing, knitting, and, most-especially, hand-sewn quilting – Libby was tremendously humble and simply believed that if she did something, it was worth doing well. Above all else, however, she was selfless. Without pause or second thought, Libby continually put the needs and welfare of her family before her own. Her tireless example of devotion to family lives on through the lives of her four children, each accomplished in their own rite. She was a woman of profound wisdom, wit, sass, and tenderness. Already, we miss her bright smile and sparkling eyes, but her absence from our sight can never, ever diminish our love for her in our hearts.
Libby was born on December 21, 1932, in Binghamton, New York. Her family eventually moved to and settled in Stockbridge, Massachusetts, where she met her love and future husband, Gilbert "Gil" Gaston, of West Stockbridge, Massachusetts. Libby and Gil were married on June 7th, 1952, in Stockbridge, Massachusetts, and raised four children together. She is survived by her husband, Gilbert, of Yarmouth, Maine, daughter Elizabeth "Beth" Rice and husband, Bill, of Woodstock, Maine, daughter Roberta "Bobbie" Mowatt and husband, Bob, of Yarmouth, Maine, daughter Barbara "Barb" Stowell and husband, Al, of Woodstock, Maine, and son Gilbert "J." Gaston, Jr. and wife, Ginger, of Annandale, Virginia, in addition to nine grand-children and five great-grandchildren.
Libby requested that no wake or funeral be held. Her earthly remains will be cremated and, at a future date, be interred in Lee, Massachusetts, next to her brother, John Jeffrey Davis.
We extend our sincere thanks and gratitude to the exceptionally compassionate and professional staff at Hospice of Southern Maine.