« Obituaries | Ray Ned Garza
Ray Ned Garza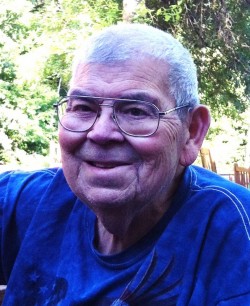 Date of Death: August 26, 2012
Date of Birth: December 31, 1932
Biography:
Auburn-Ray N. Garza, 79, of Clinton, the most amazing Dad and Grampy, went to heaven on August 26, 2012, to be with God and rejoin our Mom. Dad passed away peacefully with his family by his side after a courageous battle with lung cancer.
He was born on December 31, 1932, in Corpus Christi, Texas to the late William Garza and Nora Luna. In 1959,
he and his late wife Brenda moved to Maine to start their family, building a home and settling in Oxford.
Our Dad worked for many years at Cornwall Industries, and retired from Seltzer and Rydholm in 1995.
Dad enjoyed family vacations, fishing, hunting, playing cards and visiting the casino, he also had a love
for animals and their well-being. Our Father's greatest joy and passion in life was spending time with his
children, grandchildren and great-grandchildren, family was truly the essence of his life.
He is survived by his children, daughters Erlene LeBorgne and her husband David of Windham; Carlene Barnies and her husband Peter of Auburn; Sherry Collins and her husband Brent of Clinton. Sons Corey Garza and his wife Beth of Buckfield; James Garza and his wife Phyllis of Staunton, Virginia; Ray Garza of Mia,
Louisiana. Grandchildren Jason, Jeremy and Lacey Barnies; Ryan Dufour; Ashley, Amanda, Alana and
Aaron Garza; Katlyn, Garrett and Shane Collins. Great-grandchildren, Kayley Jones (his little girl) and
Alex Dufour (his little Alejandro), and loving significant other Helen Taylor of Madison.
He was pre- deceased by his wife Brenda Garza in 1994, and his mother and father.
Thank you to the staff at Marshwood Center, especially the team on Elliot House for taking such good care of our Dad; and the Androscoggin Hospice House for the support given to our family, and the comfort and
caring compassion shown to our Dad on the last days of his journey. By request of the family, services for
our Dad will be private. Donations in his memory and honor may be made to the Androscoggin Hospice
House, 236 Stetson Road, Auburn, Maine, 04210.
Condolences may be expressed at www.funeralalternatives.net