« Obituaries | Nancy Jean Garwick
Nancy Jean Garwick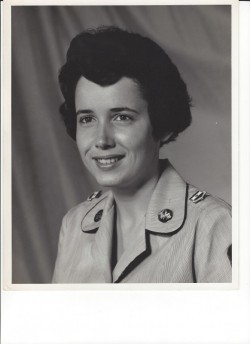 Date of Death: June 14, 2014
Date of Birth: November 16, 1946
Biography:
Nancy Jean Garwick was born on November 16, 1946 and went to be with the Lord on June 14, 2014.
 Nancy served in the U.S. Army from August, 1965 through April 1968. She served as a photographer at Ft. Sam in Texas as well as in Naples, Italy. While in school at Ft. Monmouth, N.J. she met her husband, Everett "Keith" Garwick, while he was also serving in the U.S. Army. The couple met on October 16, 1965 and were married on August 4, 1966 in Texas.
 She is pre-deceased by her parents, Helen & Vernon Lucas.
 Her survivors include her husband, Everett "Keith" Garwick of Topsham, ME. Her daughters Jean Wolkens (spouse, Jeff Wolkens) of Topsham, ME.; Kathy Hill of Brunswick, ME.; sister Marilyn Neely; brothers' Robert Lucas, David Lucas, Raymond Lucas; two grandsons, Jacob Wolkens, Lucas Wolkens.
A memorial service is planned for June 27 at East Brunswick Baptist Church, Cook's Comer Brunswick at 10am. Internment at the Veterans Cemetery in Augusta, ME. In lieu of flowers, a memorial donation to Chans Hospice care would be appreciated at 60 Baribeau Drive, Brunswick ME. 04011.