« Obituaries | Rodney G. Garnett
Rodney G. Garnett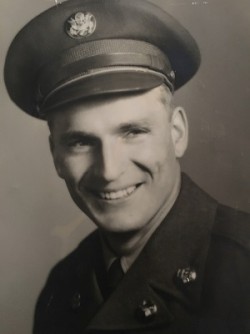 Date of Death: August 24, 2016
Date of Birth: June 1, 1928
Biography:
BRUNSWICK - Rodney G. Garnett, 88, went home to be with our Lord and Savior on
August 24th peacefully in his sleep. He was a native of Maine and attended Steuben Schools.
Rodney was the youngest and last surviving of 12 children and was loved by all. His favorite time was spent with his grandchildren and great grandchildren and the many nieces and nephews that adored him. He had a tee shirt that said "My favorite people call me grandpa", which was worn often and so true. He served his country and was honorably discharged from the Army. After his discharge he became a Merchant Marine for 15 years on the Great Lakes.
He is survived by his loving wife Patricia Garnett and his four children, Barbara Pease and husband Jim of Montana, David Garnett and his wife Cheryl of Bath, Sandy Mayer and her husband Perry of Arkansas, and Leonard Garnett and his partner Sandy of Woolwich.

There will be a Celebration of life on Saturday, September 3rd, 2016 at 2pm at Small Point Baptist Church in Phippsburg. Please join us to celebrate the life of a wonderful man..