« Obituaries | Stanley Robert Garland
Stanley Robert Garland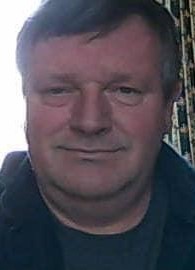 Date of Death: June 23, 2019
Date of Birth: October 25, 1957
Biography:
Stanley Robert Garland 61 died suddenly at his home in Lisbon on June 23rd, 2019.

Stan was born on October 25th, 1957 in Norwich, CT to Marion R. (Bamforth) and Donald W. Garland.
His early education was primarily completed in Connecticut and he graduated from Brunswick High School in Brunswick, ME in 1976. He completed a year of post graduate work at Norwich Tech receiving a diploma in 1978. Stan was a lifelong learner completing courses in electronics, computers and electrical technology.
His early years of work included driving truck for JK Sales in Topsham, ME, changing tires at L and A Tire in Brunswick, ME, pumping gas at T-Hy Texaco in Brunswick, ME and working at BNAS as a Civil Servant.
In 1978 Stan joined BIW as a fabricator and machine operator at the Hardings Plant in Brunswick, Maine.
Stan became a stay at home Dad long before it became popular to do so. He and the kids benefited greatly by this.
Later on, Stan went to LLBean to work as Parking Lot Security in Freeport, Maine
Following that Stan became the computer tech for the US Census in the Portland, Maine office.
He finally settled into a job that he was really good at. Topsham Rental Center in Topsham, Maine needed a large and small equipment mechanic. When this job ended, Stan became a stay at home husband.
Stan was predeceased by his parents.
He is survived by his loving wife of 39 years Linda M (McIrvin) Garland, their children Bryan M Garland, and Naomi L Gagnon and her husband Gerry, their 5 grand children
Christian M Garland, Nathaniel J Garland ,Alexis D Garland , Adrienna (Asher) M Viens, Skylar R Viens
Brothers George and his wife Elsie, Donald and his wife Susan and Kenneth
Sisters Lois Dziergowski, Ann Menard and her husband Henry, Marilyn Tarbox and her husband Paul and Hope Miner and her husband Raymond
Extended family including Doug Viens and Kenny Malloch and his wife Carole
Many cousins, nieces and nephews
A celebration of life will be held July 3rd at 6pm at the Pathway Vineyard Church Cafe, Foss Rd, Lewiston, Maine. There will be a potluck meal so if you are able, please bring a small dish to share.
All those that knew Stan are encouraged to bring a favorite story or memory of life with Stan.

Dress is very casual

In Lieu of flowers the family is requesting you make a donation to your local animal shelter.