« Obituaries | James S Gardner
James S Gardner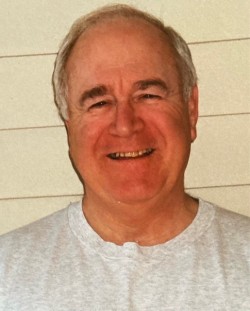 Date of Death: November 26, 2021
Date of Birth: May 2, 1938
Biography:
>AUBURN – James "Jim" Stuart Gardner, 83, passed away on Friday, November 26, 2021 as a result of complications of COVID.
> Jim is remembered as a father, grandfather and friend.   Jim was born on May 2, 1938 the son of William and Helen B. Gardner. He grew up in Auburn, Maine and graduated from Edward Little High School. After service in the US Army, Jim moved to Rochester, NH and started his family.
> Jim enjoyed careers in sales including work at Valley Engineering in Gray, Maine, where he combined his charismatic personality with his love of skiing.  Jim enjoyed success selling snow-grooming equipment, a career that would allow him to travel the country and Europe, including attendance at the Winter Olympics in Innsbruck, Austria.  Later in life Jim and his wife owned and operated Oquossoc Grocery in Oquossoc, Maine.   Jim built friendships which he would enjoy until his passing.
  > An avid outdoorsman, Jim enjoyed fishing, hunting, snowmobiling and skiing, which he enjoyed well into his 70s.  These passions were shared with his daughters and grandchildren.   Jim remained active in the Masonic Lodge and Kora Temple as well as the Shriner's and Auburn Community Bands, where he played trombone until his mobility limited his ability to do so.
 > Surviving daughters include Jami Gardner and Robert Blanchette of Rochester, NH; Joleen Auger and husband Roland of Waterboro, Maine; Kerry Gardner and Scott Ash of Rangeley, Maine; and Cheryl Campano and fiancé Daniel Burke of Rochester, NH.   Affectionately known as "Pop", Jim leaves grandchildren Chelsea Barker and fiancé James Kriete of Rochester, NH; Natalee Stimpson of Victor, Idaho; Abbey Secunde and husband John of Buxton, Maine; Samuel James, Eva, Amelia, Hannah and Meredith McMillan of Rangeley, Maine, and great granddaughter Avery as well as nieces and nephews.  Jim was predeceased by his parents William and Helen Gardner, his brother William Gardner, and his dear friend Margaret Berry.
 > Jim's family wishes to extend a depth of gratitude to the St. Mary's Medical Center ICU physicians, nurses and staff for the provision of exemplary, compassionate care during his hospitalization. 
> We also wish to extend our deep appreciation to West Auburn Congregational Church's ministry and membership for their love and fellowship. Dad had truly found his church community these past several years--we are forever grateful.
> Cremation services cared for by Funeral Alternatives in Lewiston, Maine. A celebration of Jim's life will be held on April 23, 2022, 11:00 a.m. at West Auburn Congregational Church.   Donations may be made in Memory of Jim Gardner to the West Auburn Congregational Church, 811 West Auburn Road, P.O.   Box 3126, Auburn, Maine 04212-3126.