« Obituaries | Berton N Galouch
Berton N Galouch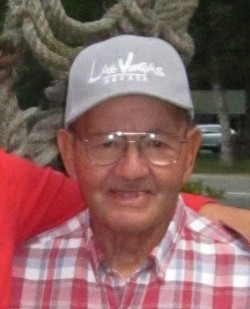 Date of Death: April 28, 2021
Date of Birth: May 24, 1928
Biography:
AUGUSTA - Berton N. Galouch, 92, of Litchfield, passed away April 28, 2021 at Maine Veteran's Home in Augusta, ME. Son of Freeman Galouch and Sylvia (Pinkham) Galouch, Berton was born May 24, 1928 in Readfield, ME.  He graduated from Kent's Hill and went on to serve as an army Corporal in Japan before spending much of his life as a woodsman. Berton married Joan in 1953 and they celebrated 68 years together. He enjoyed being outside in his vegetable garden, hunting, and spending time with their children: Cynthia, Craig, and Lisa. He was part of every family event and often helped with building projects, cutting wood, and working trees at his son's tree farm.  Later in life, Berton and Joan relished many special times with their grandchildren Suzanne, Brandon, and Lindsay; attending school events and playing games.  
Berton is survived by his wife Joan M. (Clifford) Galouch of Litchfield, ME; daughter Lisa (Galouch) Heald and husband James, of Litchfield, ME; daughter in-law Barbara (Gordon) Galouch of Wayne, ME; grandson Brandon Galouch and wife Jessica of Shavertown, PA; granddaughter Lindsay Heald and fiancé Nate Becker of Portland, ME; granddaughter Suzanne Leighton, husband Darren, and great-grandchildren Sage and Colt, of Lewiston, ME. He is also survived by Carl and Lorraine Cottrell of Winthrop, ME; Greg and Thim Clifford of Florida; Lorraine Galouch of Readfield, ME; and many nieces and nephews. Berton will be fondly remembered as a loving father, grandfather, sibling and friend.
Berton was preceded in death by his 4 siblings, Richard Galouch of Readfield, ME; Barbara Damren of Mount Vernon, ME; Edna Wood of San Antonio, TX; and Norman Galouch of Belgrade, ME.  Berton was also preceded in death by his daughter Cynthia (Galouch) Childs of Belgrade, ME and son Craig Galouch of Wayne, ME; may they be together once again.
A private burial service for family and friends will take place at Glenridge Cemetery at a later date to be determined.  The family would like to thank the team at Maine Veteran's Home in Augusta for the wonderful care they provided over the last year.