« Obituaries | Robert (Bob) Allan Gallant
Robert (Bob) Allan Gallant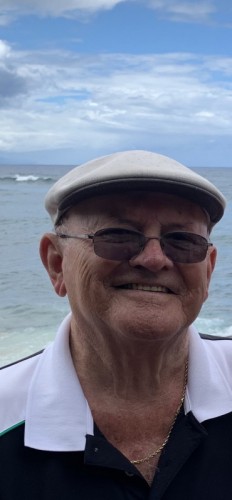 Date of Death: August 11, 2022
Date of Birth: July 5, 1936
Biography:
North Yarmouth- With extreme sadness, we announce the passing of Robert (Bob) Allan Gallant (86) at home, surrounded by his family at 94 Haywood Lane in North Yarmouth, Maine on August 11, 2022.  He was born in Portland, Maine on July 5, 1936.
Bob graduated from Greely High School in 1954.  He was married to Donna Jean Brown on October 21, 1960 in Yarmouth, Maine.  After completion of High School Bob enlisted in the United States Navy (1954-1959).  His working life as a civilian was carpentry for several years then as Drop Forger at "American Hoist & Derrick, Crosby Group" in Portland for 40 years then transferred to "Crosby Lebus" in Longview, Texas in 1986 as General Foreman of the entire plant for 12 more years.  After moving to Texas three of his children soon followed and his sons Ron and Don worked with him in the Forge Shop until his retirement in 1998.  Upon retirement he moved back to North Yarmouth and built a new home on family land located off Royal Road.
Bob loved his family.  His biggest accomplishment was being a wonderful husband and father.  His heart beat faster when his wife of 62 years, Donna, entered the room and saddened a little when she left.  His daughter and three boys were the ones he most wanted near him because he loved them and their families to pieces.
Some facts about Bob were that he always carried a handkerchief (not a tissue but a cloth hanky).  Always had one in his pocket and insisted on a hanky.  One of Bob's favorite sayings were: " I love you so damn much it makes me want to puke"! and, "I'll have a "Crown Royal and Pepsi…. But hold the Pepsi, I'm allergic to it"!
His favorite pastimes were sports, games and tending a beautiful lawn.  For sports, he was a die hard "Boston Red Sox" and "Dallas Cowboys" fan.  He enjoyed all games: golfing, darts, pool, horseshoes, corn hole, cards; the list goes on and on.  In addition, a small wager on any of these events was desirable.  In retirement, dandelions and tall grass shivered when they heard the start of the lawnmower (which he owned six).  They knew Bob was on the warpath and they were the enemy!
As far as the entire family was concerned he didn't realize that Pops, Beam, Grampy, Gramps, Dad and "Buffalo Bob" meant more to them than he could ever imagine…….loved him to pieces.  You have to realize that every family has an uncrowned Prince of Princes who does not seek special stature but achieves it nevertheless.  Bob was that favorite uncle, the trusted brother, the helpful brother-in-law, and the one person you could trust.  Bob was blessed with a barrel-load of kindness and lived a long and rich life to the fullest- the whole 86 years of it.
He was an active member in multiple organizations: Elke Lodge in Portland (where he was a past Exalted Ruler), Amvets, American Legion, VFW, Masons (a Shriner) and Moose Lodge.
He was predeceased in death by his loving parents William Gallant and Gladys Beckwith.  Brothers: Joseph Gallant and Raymond Gallant.  Sisters: Geraldine Hanson and Gloria Hanson. Brother-in-law Terry Brown of Gray.  Granddaughter  Jordan – Michele's infant daughter.  Nephews: Ricky Hanson, Bobby Hanson, Tommy Hanson, Jeff Hanson, Troy Brown, and Todd Brown.
In addition to people who passed, his pets were Brandy, Pal, Sintuk, Morgan, Herbie, Mercedes, Taz and Taz II.  Having said beloved might be a stretch where Herbie the Myna Bird was concerned; it wasn't really love but more of a wary coexistence.  Herbie loved Donna and was jealous of Bob.  When Herbie was out of his cage there were nothing bur nefarious airborne attacks which were exclusively aimed at Bob!  'Nuf said.
Surviving relatives are: His loving Wife for 62 years: Donna Gallant; Daughter: Michele and husband Glen Atkins of North Yarmouth, Maine.  Sons: Scott and wife Kathy Gallant of Bowdoinham; Ronnie and wife Tracy  Gallant of Longview, Texas; Donnie and wife Tammie Gallant of Lisbon, Maine.
Grandchildren: Kaitlyn Gallant, Renee and Matt Story of Velrico, Florida; Justin and Albi Gallant of Las Vegas, Nevada; Danielle Allen of Rangely, Maine; Jade and dan Syverson of Saco, Maine; Amber and Josh Harrington of Waldoboro, Maine; and Brittni and Seth Somers of Hallsville, Texas.
Great grandchildren: Jasmine, Mason, and Jaxon of Velrico, Florida; Brandon, Evan, Julian, and Stormy of Rangely, Maine; Lena Hathaway of Waldoboro, Maine; Adleigh, Winnie, and Emory Ann of Hallsville, Texas.
Brothers-in-law: Edward Hanson of North Yarmouth, Earls Brown of Scarborough and John Douphinett of North Yarmouth.
Sisters-in-law Mavis Brown, Patzi St. Pierre, Marlene Douphinett, and Bonnie brown.
Numerous nieces, nephews, cousins and friends that meant so much to him and he loved dearly.
In closing, the family would like to thank Beacon Hospice for all their help and support and Reverend Bob Dorr, lifelong friend and spiritual support.
There will be a Graveside Service at 11am on Saturday, August 20, at the Walnut Hill Cemetery on the Walnut Hill Rd., in North Yarmouth.
In lieu of flowers, please donate to the Saint Jude's Children's' Hospital or the ASPCA.
As Bob would say "One more hand and it's your deal!"
Condolences may be expressed at www.funeralalternatives.net