« Obituaries | Andre' Ulderic Gagnon
Andre' Ulderic Gagnon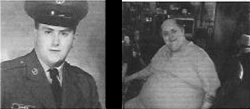 Date of Death: November 9, 2016
Date of Birth: April 21, 1927
Biography:
ANDRE' ULDERIC GAGNON, 66, of Brunswick, passed away on November 9th, 2016 after a long illness, and a month's stay at MidCoast Hospital.
He was born on June 23, 1950 the son of Florian Gagnon and Helene Roy Gagnon.
Andre' was a NRA member, Eagle Scout, certified Scuba Diver and a Legionnaire.  
He enjoyed playing his 12 guitars, and listening to music, his art Work, his  "toys" Dell, Ipad, date night with his wife, and a movie. Holidays will be tough without him!
Andre', working at BIW, was a good time in his life being with friends and ship fitting!
He Gave to all charities, St. Jude, Shriners, ASPCA, Humane Society, and Missionaries, Hunger, DAV and all Wounded Warrior pledges, Andy had a sharing heart when it came to these things!
He Loved camping, diving and working In the yard! He loved the military, history, and avidly new all wars, dates and so much more, and the love of his life was his dogs, Gilly and Foxy!  
Andy had several careers, Woodwork Interiors in the 1970's he loved working with wood!
Truck driver, Custodian at Farwell School and Lewiston High School, and Bath Iron Works,
for 22 years! A member of the National  Riflemans Association, Certified SCUBA Diver and Eagle Scout, in 1971 obtained his GED and entered the Air Force for six years, became a sergeant and head of the Mule Train Convoy in Korea .
He was predeceased by father Florian Mathias Gagnon and nephew Christopher Gagnon Nephew.
Andre' is survived by his mother Helene Gagnon, his wife Annie E Gagnon, her two children from previous marriage, Colleen DeVeau White, and her husband Jeffrey White, and a her son Joshua DeVeau,  A brother Gill Gagnon and his wife Kim, their children Whitney Gagnon (nephew Christopher Gagnon predeceased) A sister, Lorraine Bernier, and brother In law Don Bernier, two nieces Michelle Poisson and her husband Joshua
Poisson, and their daughter Quinn (Niece to Andy) Nicole (Punky) Bernier and her daughter Shae a sister Gloria Foss and Rick Foss (predeceased) Colter Foss and wife  Kristi Foss,and  sons, Walker, Colter and Gunner Foss an ex-wife Cynthia and her daughter and Andy's step daughter Nicole Senence, and
Cynthia's son Dennis Leborte.
Scheduled burial with honors November 28,2016 At noon, Maine Veterans Cemetery Civic Center Drive, Augusta, Maine
In Lieu of flowers-please send donations to Andre's spouse Annie E Gagnon, 36 Shea Street, Brunswick, ME 04011 
11/19/2016 CORRECTIONS HAVE BEEN NOTED, ANDRE'S BIRTHDATE IS 06/23/1950,
HIS BROTHER GILL AND HIS WIFE KIM DO NOT HAVE COLLEEN DEVEAU WHITE OR JOSHUA DEVEAU, (THOSE ARE MY CHILDREN)
GLORIA FOSS, ANDRE'S SISTER ALSO HAS ANOTHER SON WALKER FOSS