« Obituaries | Bonnie L. Gagne
Bonnie L. Gagne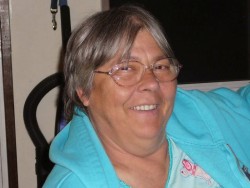 Date of Death: April 1, 2022
Date of Birth: July 3, 1957
Biography:
Bonnie L Gagne, 64 of Lewiston died on April 1st 2022 at the Androscoggin Hospice House. 
She was born on July3, 1957, Elise Owens and Allard Mashtare, at Central Vermpnt Hospital in Berlin, Vermont.
She is predeceased by both parents, a brother Allard Mashtare, Jr. or Grand Isle Vermont and step daughter Cherie Sargent of Turner.
She is survived by her husband of 30 years and life long soul mate, Dale Gagne; brother-in law Dana Gagne and his wife Ruth Gagne and family two sons, Dale Gagne,Jr of Lewiston and Chris Duprey of Vermont; two daughters Shanan Dunn and her husband, Bill Dunn of Lewiston, Tiffany Geary of Lewiston; two step-daughters Karen Henderson and her husband Shawn of Hartford, Marcia Powers and her husband Brendan of Turner; 17 grandchildren and 7 great grandchildren.
She loved working with her hands, crafting, fishing, hunting, and planting flower gardens.  She loved playing Bingo and playing cards with her Bingo buddies.  She survived and beat breast cancer in 2012.  Mos of all she loved spending time with her grandchildren, who were her pride and joy.
Bonnie worked many different jobs in many different fields.  She was a CAN, waitress, home stitcher for Supreme Silpper.  She built sptes for Continental Fiberglass.  She sarted up her own craft business called Big Daddy's Crafts and excelled in all she did.  She was a very hard worker and gave every job her all.
Memorial service will be held at a later time.