« Obituaries | Adelaide Furbush
Adelaide Furbush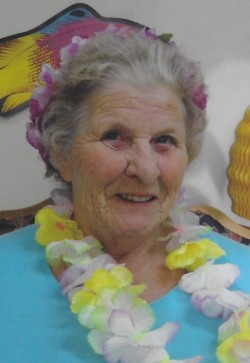 Date of Death: December 21, 2015
Date of Birth: March 31, 1932
Biography:
Adelaide Furbush, 83, of auburn Maine passed away on Monday Dec. 21st, 2015 at Bolster Heights.
She shared her birthday with her mother, Thelma Tibbetts-Puize, and was born on March 31st, 1932 in Lewiston, Maine.
 Adelaide enjoyed cooking, and helping others. She worked in childcare when she was 10 years old, and later in life she became a CNA. She worked as a CNA at Russell Park in Lewiston, Maine until her retirement.
She was preceded in death by her mother; a stepsister, Katie Kellogg; and many cousins and special friends.
Surviving her are two daughters, Kathy and husband Robert Moody of Lewiston, and Doryce Voisine of Auburn; her brothers Louie and his wife Arlene Kellogg of Kansas, Robert and his wife Lillian Kellogg of Rumford, and Ben and his companion Mary of Bethel; 5 grandchildren; 10 great grandchildren; and 1 great great grandson.
A memorial service will be held at 2pm on Sunday January 3rd 2016 at the Baptist Church of Greene, 102 Main St, Greene, ME 04236. Interment will take place in the spring. In lieu of flowers, donations may be made in her memory to the church for their sound system, or to the Alzheimer's Association.