« Obituaries | Patricia A. French
Patricia A. French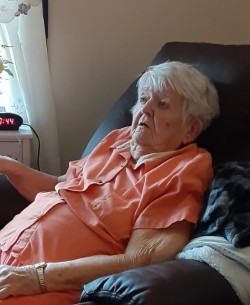 Date of Death: June 14, 2023
Date of Birth: June 30, 1934
Biography:
Bowdoin – Patricia A. French, 89, formerly of Dresden passed away at Gosnell Hospice House on Friday, July 14, 2023. She was born on June 30, 1934, a daughter of Clarence Blake and Evelyn McNeil.
Patricia worked at the Hyde Home, packed fish in Boothbay, worked at Walton's Nursing Home, Popp's farm in Dresden and for over 20 years at the Plant Home in Bath.
Patricia married Richard Morse in 1955 and he passed away in 1965. Together they had three children: David, Barry and Lucinda. Patricia later married John French in 1968 and he passed away in 2006. Together they had a daughter Vickie.
Patricia enjoyed sewing, caring for her animals and having kids around. Pat had a giving soul. She took care of everyone's kids and was always the first one to worry about someone else and help in any way she could. She enjoyed the small things in life and never asked for much.
Patricia had many special neighbors all around her in Dresden, The neighborhood looked out for each other. A special thank you to her long time friend Lona Mott of Phippsburg.
Patricia is survived by her son David Morse of Dresden, Barry Morse and wife Teresa of Richmond, Lucinda Marshall and husband Randy of Bowdoin and Vickie Roy and husband Raymond of Berlin, NH. She is also survived by 3 grandsons: Evan, Roger Travis and one great grandson Wyatt. She also leaves many nieces and nephews.
A gathering will be held at a later date. In lieu of flowers donations may be made to Gosnell Hospice House or Coastal Humane Society