« Obituaries | Marjorie M. Freed
Marjorie M. Freed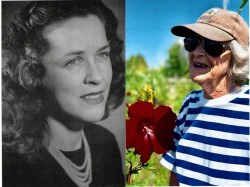 Date of Death: September 6, 2019
Date of Birth: October 12, 1927
Biography:
S. Portland - Marjorie M. Freed, 91, of Portland, ME., died on September 6th at South Portland Nursing Home.
Born on 10/12/1927 daughter of William and Justine McNulty of Rochester New York.
Family and friends knew her as Mom, Grandma, Maggie, Marge and to her great grandchildren Gigi. She was an incredible woman who loved her
family, lived independently and brought much joy to our world. She will live forever in our hearts and memories.
She was a mother to any children she came to know. For many years she worked in daycare and formed lasting relationships with the children she
cared for and their parents. After retirement she volunteered in local schools reading to the children including the East End Community School
on Munjoy Hill across the street from where she lived. Her grandchildren and great grandchildren were her pride and joy and when they were around they had her undivided attention.
Throughout her life she loved to walk, whether on city sidewalks, through parks, along beaches, or forest trails. Well into her senior
years she enjoyed walking from her home at Bayview  Heights on Munjoy Hill, along the Promenade and down to downtown Portland. She often
greeted and had conversations with those she met along the way. When age and weather made it harder to walk outside she walked the hallways of
the building where she lived. In the afternoons she would find a seat, often with friends, and watch the sun go down. We all miss her deeply.
She was predeceased by her husband Edward C Freed, brothers William, Paul, John, sisters Joan, Terry, Kay, and son-in-law Ralph Ackerman. She
is survived by her sister Helen; daughter Patricia Ackerman; son Michael Freed; grandchildren Joshua Ackerman; Benjamin Ackerman; Nicolas
Ackerman his wife Jessica Parker and great grandchild Isabel; Nick Freed his wife Katherine and great grandchildren Lillian and Charlie.
A memorial service will be held on September 19th at 11:00 AM at The Church of the Holy Spirit, 1047 Congress Street, Portland followed by a
reception.
In Lieu of flowers- Donations may be made to The Nature Conservancy of Maine.
A special thanks goes out to South Portland Nursing Home and Beacon Hospice. Your excellent care and loving attention was appreciated by
Marge and her entire family.
Arrangements are under the care of Funeral Alternatives, 46 Bath Rd. Brunswick, Me www.funeralalternatives.net