« Obituaries | Joseph A. Frechette
Joseph A. Frechette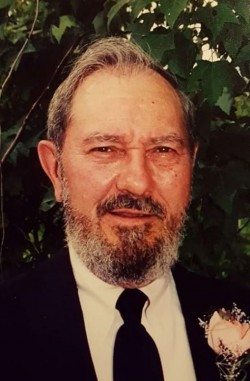 Date of Death: February 1, 2017
Date of Birth: April 13, 1931
Biography:
On February 1, 2017, Joseph Arthur Frechette earned his new hands.
He was born on April 13, 1931 to Joseph and Marie L. Frechette.  He was a member of the 82nd Airborne.  He worked as a hand sewer in several local shoe shops. He later started his own roofing-siding business.  In his later years he became a driver for Lisbon School District where he formed lifelong relations with some of the children he drove to school, namely Kevin and Kristen Lavallee.
He was a member of several local clubs including The Centre-ville, where he met his wife Myndi.
His favorite place was at home on his swing.  He would love for people to stop by and chat.  His greatest source of pride was his family.
He is survived by his wife, Mylinda Frechette, four children; Judy Dougherty of S. Carolina, Jackie Knight of Scarborough, ME., Charles Loan and his fiancé Tonja, Mylinda Bussiere and her husband Dana, five grandchildren; Christy Keniston, K.K. and Co Co Dougherty, Christian Knight, and Ryder Bussiere, and one great grandson Brekken.
The family would like to thank Gary Stallsworth and Marilou Chamberlain, for without them it would not have been possible for Art to stay home.  We would like to send special thanks to Cindy Brown, Keena Sullivan, and Leo Savard from AHCH for their devotion to Art during this past year.
Friends and family are invited to join in a celebration of his life on Saturday 2/11 at 1:00 pm at his home.