« Obituaries | Jean W. Frank
Jean W. Frank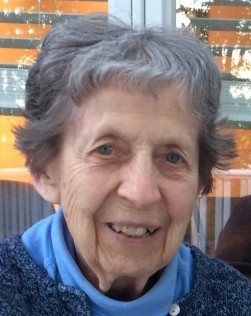 Date of Death: March 13, 2018
Date of Birth: May 14, 1926
Biography:
BATH - Jean Ward Frank died peacefully Tuesday, March 13, 2018, in her home with her husband by her side. She was 91.
Mrs. Frank was born May 14, 1926, in Lancaster, Pa., the daughter of B. Frank Ward and Mary Hartman Ward. She was a graduate of McCaskey High School and Millersville State Teachers College. After earning a graduate degree at Shippensburg State College, she became an English teacher at Biglerville High School in Pennsylvania. She and her husband, Lew Frank, lived and raised a family in Gettysburg, Pa., before retiring to Maine in 1992.
Jean and Lew vacationed each summer on Indian Point for decades before deciding to move full-time to the Maine Coast. They lived 26 years on Bay Point Road in Georgetown, where Jean was an active member of the Working League. They moved to the Plant Memorial Home in 2016, where they were surrounded by new friends and caring, dedicated and professional staff members.
Mrs. Frank was an expert birder, pursuing her hobby in trips to the Canadian Maritimes, the Florida Keys, Alaska and other faraway places. She was recognized for her contributions to important research on the migration patterns of tundra swans. Any time of year, she and Lew could be seen walking at Reid State Park, her binoculars always handy. She was the person friends and neighbors called when they spotted an unusual bird.
Jean was a master gardener and a student of nature. She spoke to school and civic groups about birding and wrote a regular column on birds, plants and wildlife for the Georgetown Tide.
She is survived by her husband of 69 years, Lewis B. Frank; by their daughter, Ellen Frank Holmes and her husband, Richard Holmes, of Upton, Mass.; their son, Andrew Frank of Gettysburg, Pa.; her sister, Maryann Sherer and brother, James Ward, both of Pennsylvania; grandchildren Bonnie Holmes and her husband, Josh Burns, of Marlboro, Vt., Daniel Holmes of Nashville, Tenn., and Olivia Holmes and her partner, Sam Victor, of Upton, Mass.; two great-grandchildren, Gloria and Alberta and many friends and relatives.
Funeral arrangements are private. Memorial gifts in her memory may be made to the Audubon Society, the Nature Conservancy or to a charity of your choice.