« Obituaries | John E. Franck Sr.
John E. Franck Sr.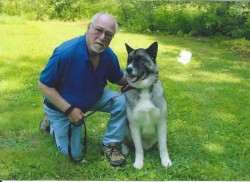 Date of Death: August 22, 2014
Date of Birth: December 15, 1942
Biography:
John E. Franck Sr., 71, of Lewiston, passed away on August 22nd, 2014 surrounded by his family following a brief battle with cancer.
He was born on December 15th, 1942 in Skowhegan to parents Adrian and Priscilla (Michaud) Franck.
John joined the Army after his schooling . He was a member of the Eagles Club. He was also a volunteer driver for Western Maine and Community Concepts.
He enjoyed and looked forward to his Saturday morning breakfasts with pépère, and playing cards at the Eagles Club. He loved gardening and doing yard work, and also going to the dog park and spending time with his dog, Soco.
John worked in roofing, real estate, sales, and in several area factories.
He is survived by his wife of 31 years, Monique; two sons, Kevin Franck and his wife, Bobbi-Lyn, and John Franck Jr.; two stepdaughters, Kelly Ann Thibault and her husband, Glen, and Andrea Rodrigue and her husband Scott; 4 grandchildren, Amber, Erika, Ciahra, and Kyle; a sister, Donna Vaillancourt; and his beloved dog, Soco.
A Memorial Mass will be held at 11am on Wednesday August 27th, in the chapel at St. Peter and Paul Basilica in Lewiston. In lieu of flowers, donations may be made to the Montello Activity Department, 540 College St. Lewiston, Maine 04240.