« Obituaries | Richard Eugene Foushee
Richard Eugene Foushee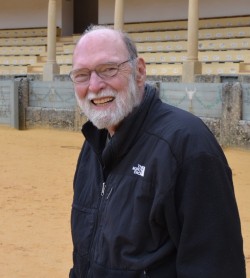 Date of Death: September 4, 2022
Date of Birth: March 2, 1938
Biography:
Richard Eugene Foushée, father, grandfather, photographer, and philosopher passed away in Brunswick, Maine after a brief illness on September 4, 2022, at the age of 84. He was born on March 2, 1938, in Tulsa, Oklahoma to Robert Foushée and Dorothy Tryon and was the youngest of three boys.
Richard graduated from Wheaton College in Illinois and received a master's degree from the University of Sussex, UK, and a Ph.D. in American Studies from St. Louis University. Richard taught photojournalism at the University of Denver and the University of Minnesota before founding an independent production company in 1983 with Nancy Hall, Hall-Foushée Communications. Over the next 31 years Hall-Foushée produced multiple documentaries including Heart Care, a documentary on Ansel Keys, Health Revolutionary, and a 14-year study for the NIH called Look AHEAD. Earlier documentaries included the restoration of Bent's Fort in Colorado, They Came to Build, which won recognition from the National Trust for Historic Preservation.
Always following his bliss, Richard pursued his passions with curiosity, intensity, and devotion, which included the Japanese tea ceremony, fly fishing, amateur radio, and chess. He sought to master each interest, studying tea in Japan, learning to tie flies, building his own radios, and learning new openings or playing chess online with opponents around the world. Richard was also known as being a contemplative athlete. Though humble about his athletic accomplishments he is still remembered at Hoover High in Glendale, California as a gifted football player in high school and college. Most importantly, Richard was a student of life, musing about the journey and an individual's place in the world. Richard wrote a dozen sermons for Unity Church-Unitarian in St. Paul, MN, which he delivered annually over many years, centered around Eastern philosophy and Buddhism.
He was deeply spiritual and loved to discuss ideas, books, and politics. Richard was a life-long student, always reading and writing, and approached everyone he met with compassion and respect. He always accepted and supported others and could lift them up with his warm smile, twinkling eyes, and sense of humor. Generosity came easily to Dick as well as the support for anything or anyone he believed in, including his family and friends.
Richard is survived by his son Eric Foushée and his daughter in-law Nancy Eckel Foushée; grandchildren: Connor, Martha, Lane, and Asher; and his cat Thistle. He is predeceased by his parents, Robert and Dorothy, brothers Bob and Fred, and former spouse Sandra Foushée, whom he met while serving as a Captain in the U.S. Army in Germany.
A celebration of life will be planned for the spring or summer of 2023.
Memorial contributions can made in Dick's honor to either Doctors Without Borders at
donate.doctorswithoutboarders.org or the Southern Poverty Law Center at support.splcenter.org