« Obituaries | Gary A. Foss
Gary A. Foss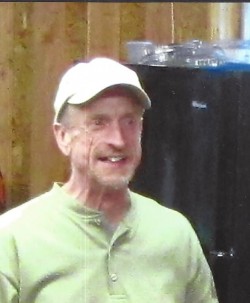 Date of Death: June 5, 2014
Date of Birth: November 27, 1955
Biography:
Gary A. Foss, 58 of Poland ME passed away on Thursday, June 5th at the Hospice House after a long battle with cancer related illness.
He was born in Lewiston on Nov. 27th, 1955 the son of Delmar and Linda (Ojala) Foss. He attended school in Minot, and graduated from Edward Little High School in 1973.
Gary worked for Tambrands for several years until his illness. He enjoyed being outdoors, hunting, fishing and going for long walks with his dog Oreo. He also enjoyed cooking,  yard-saling, spending time with his friends and sessions in the sauna. He especially loved spending time with family at many outings and on road trips.
He is survived by his brothers Del, of West Minot,  Ernie and his fiancé, Ruthie, of Auburn and Richard (Rick) and wife, Terry, of Buckfield; his sisters Carol Doughty and husband, Tim, of Auburn, Donna Fickett and husband, Jim, of Waterford, Kathie Bowie of Oxford and Wanda Bonney and husband, Earle, of Livermore Falls; 14 nieces and nephews; and several great-grand nieces and great-grand nephews. He will also be missed by his close friends, Bert, Sue, Sally, Emma, Pat, Gigi, Jackie, Gail, his fellow dealers at the Undercover Flea Market, and many, many more friends.
FOSS-Gary A., 58, of Poland, died in Auburn, June 5th, 2014. A memorial visitation will be held on Friday, June 13th, 2014 from 7:00pm to 9:00pm at Funeral Alternatives, 25 Tampa St. Lewiston Maine. Interment will be held on Saturday, June 14th at Riverside Cemetery on W. Minot Rd. in Minot at 11:00am. Donations may be made in memory of Gary to Androscoggin Homecare and Hospice, 55 Strawberry Ave. Lewiston, ME 04240.