« Obituaries | Sylvia Flagg Folkenroth
Sylvia Flagg Folkenroth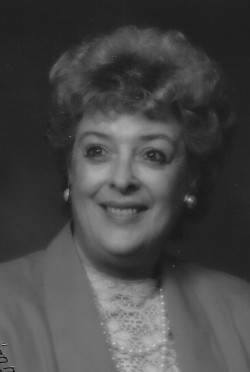 Date of Death: July 20, 2016
Date of Birth: July 19, 1932
Biography:
Auburn- Sylvia Flagg (Stroheker) Folkenroth, 84, loving wife, mother, grandmother, and great grandmother, was peacefully gathered up in her sleep by the hands of the Lord and delivered into Heaven's realm.
Sylvia was born in Buckland, Mass. On July 19, 1932, and grew up in New Gloucester, ME attending New Gloucester High School and New Gloucester Congregational Christian Church.
She was a direct descendent of Gershom Flagg, the architect of Pownalborough Court House in Dresden, ME, and Old Fort Western in Augusta, ME.
Sylvia played guard on the championship high school basketball team.  After losing one game in freshman year, that team remained undefeated the four years of high school.  She was an Eastern Star.
Sylvia married Nelson A. Hood, Jr. in 1950 and they were married for 23 years.
Sylvia loved all kinds of music, especially big bands, concert bands, and watching Lawrence Welk shows and reruns.
She was a big sports fan enjoying Patriots football, bull riding and others.  Sylvia was a wonderful cook and also knitted beautiful baby clothes, afghans and shawls.  She held a variety of jobs throughout her life; selling Sarah Coventry jewelry, working in school cafeterias, waitressing, General Electric in Auburn, and retired after working at Sears for many years.
Sylvia met and married CW04 Jan "JP" Folkenroth, USN in 1976.  He was a trombonist in concert and big bands, dance bands and swing bands.  She loved going to these events and with her smile and outgoing personality, met with many people who shared her love of music.
Sylvia was predeceased by her parents Sylvia  Ware  (Flagg) Stroheker and Nuel G. Stroheker, Sr.
She is survived by her husband JP Folkenroth, USN (Ret) of Auburn, her daughters Deborah J. Hood Neumeister of Oakland, ME, Louella J. Hood of Auburn, and Rickie Nelson Hood of Auburn, a step daughter Davida Godden of York, PA with step grandchildren Ashley and Darien.  She is also survived by her sister Cynthia Stroheker, MSGT, USAF Ret of Clinton, UT and a brother Nuel G. Stroheker, Jr and his wife Jeanne of Scottsdale, AZ, 4 grandchildren Sara Johnson of Jacksonville, FL, Blake Neumiester of Vassalboro, ME, Lindsey Neumeister of Smyrna, GA, and Jacob Goodwin and partner Kate Severance of Laconia, NH, and 6 great grandchildren.
Sylvia passed under the loving care of Androscoggin Hospice.
A memorial service and celebration of her life will be held on Friday, July 29th at 1pm at the 1st Congregational Christian Church, 19 Gloucester Hill Rd., New Gloucester, Maine.  Fellowship will follow in the vestry and internment shortly thereafter. In lieu of flowers memorial donations may be made in Sylvia's memory to the Hospice House of Androscoggin Home Care and Hospice 236 Stetson Rd. Auburn, ME 04210. Arrangements are under the care of Funeral Alternatives 25 Tampa St. Lewiston,  ME 04240 www.funeralalternatives.net