« Obituaries | Leon Francis Folger
Leon Francis Folger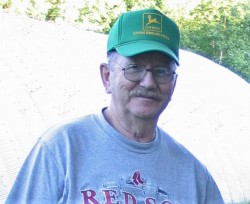 Date of Death: February 19, 2021
Date of Birth: March 31, 1932
Biography:
AUGUSTA – Leon Francis Folger, 88, passed away on February 19, 2021.  He was born on March 31, 1932 in North Augusta, the son of Albert and Leona (Damren) Folger.
 Leon attended Cony High School and in 1952 was drafted into the Army during the Korean War where he served for two years.  Leon was an excellent marksman and only one of 12 in his Platoon that remained stateside and trained troops for the Korean Conflict.
 After leaving the Army in November, 1954 he worked many jobs including a short time at Bates Mill, Old Scotch Bottling Company, and then Holmes & Swift until the company moved from Augusta.  Their move was a good move for Leon because he then began a career with the Augusta Fire Department.  He started as a Private, became an EMT, promoted to Lieutenant, then Battalion Chief and retired in 1985 as the Deputy Chief.  Leon also enjoyed working on his property in Sidney cutting firewood and forest products.
 Leon met his favorite redhead and love of his life, Winnie Baker, and they married in 1955.  They raised their family on the Lynn Road where he remained until moving to the Middle Road with his daughter and grandson for two years, then moved to the Maine Veterans Home in April, 2019.
Leon was an avid outdoorsman.  Hunting and fishing was his passion no matter what the weather. He and his friends and family spent countless hours hunting, open water fishing as well as ice fishing.  He told a friend that he should have been a writer for Field and Stream or Outdoor Life magazines.
 Coming from humble beginnings, Leon learned to think outside the box and use his Yankee ingenuity to make or fix things.  This found knowledge would become a very valuable tool in his future.
In Leon's retirement he gave it his ALL.  He worked hard and played hard.  Leon was always ready to lend a helping hand.  His love for helping others and rescuing people continued right into the Maine Veterans Home where he was always ready to assist fellow residents.  Leon's engrained ways of helping others stayed with him up to the very end.
For everything that Leon held close to his heart, something that meant the most was his love for "The Farm" located in North Augusta and Sidney. This was family-owned property that he acquired, and for the entirety of Leon's life, was the central hub and heartbeat of the Folger family. He enjoyed cutting wood, gardening, and riding his 4-wheeler through the trails that he developed and maintained. Through sacrifice and dedication, Leon and Winnie gave their three children a piece of the Farm, with all of their lives and hearts full of love.
Leon was predeceased by his parents, his wife Winnifred (Baker), brother Arthur, and sisters Helen Folger and Lorraine (Folger) Cummings.
 He is survived by his three children, David and daughter-in-law Cathy of Pittston, Jeffrey and daughter-in-law Jayne of Sidney, and Rebecca Hamilton of Sidney, as well as his grandson, Wesley Hamilton of Sidney.  He also is survived by his sister, Mary Choate of Augusta, and brother Frank and sister-in-law Alberta, as well as many nieces and nephews.
 The family extends a very special thank you to all of those at the Maine Veterans Home, Cony Road, Augusta.  For through our hardest moments, they kept our loved one alive and well cared for.  We also extend another warm and sincere thank you to the nurses and doctors at the Maine General Medical Center for Dad's last week of life.  A special thank you to Dr. Jose Ramirez and Dr. Stephanie Corriveau.
Per Leon's request there will be no visitation or funeral, however, a Memorial Service will take place at a later date.
 Condolences may be expressed at www.funeralalternatives.net