« Obituaries | Kenneth E. Foisy
Kenneth E. Foisy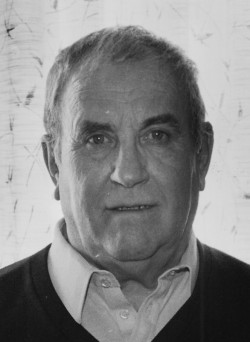 Date of Death: February 27, 2013
Date of Birth: December 4, 1929
Biography:
Auburn- Kenneth E. Foisy, 83, a resident of Sabattus died on February 27, 2013 after a long illness. Ken was born on December 4, 1929 to Hazel and George Foisy in Lewiston. He lived his entire life in the Lewiston area.
Ken attended Lewiston schools, graduating from Lewiston High School in 1948. He was one of LHS's all-time great football players and was the leading scorer for the Blue Devils for the 1947 state championship team. In the final game of that season against a tough Quincy, MA. team, Ken scored the only touchdown to tie the game and kicked the extra point, leading the LHS team to a 7-6 win and marking the end to an undefeated season. In his senior year, he was named an All-Maine halfback. Ken also lettered in track and basketball during his high school career and for many years, he held the Maine Schoolboy record in shot put.
In 1987, along with the LHS championship football team of 1947, Ken was inducted into the Lewiston-Auburn Sports Hall of Fame. In 1993, he was recognized again for his athletic contributions by being inducted as an individual.
Ken worked his entire career in the sheet metal business, starting with Hahnel Brothers, a local company. After many years, he was sought out by a Massachusetts-based business, Atlantic Skylight and Roofing, to oversee their field office in Auburn, ME. Ken spent the rest of his career managing that office, securing and directing projects all over the New England area and hiring and training employees. He was not afraid to roll up his sleeves and work alongside his men on any job. Ken was a 50- year member of the Local 17 Sheet metal Workers Union.
Ken was an active member of the Lewiston Lodge of Elks and spent many hours supporting the organization, both socially and by giving of his own time and energy when "the club" needed help. In 1985 and again in 1999, Ken was honored as the "Elk of the Year" in recognition of his loyalty and support.
Ken married Nancy Cyr in 1949 and together they had two children, daughter Lynda and son Kenneth. In later years, he married a second time to Patricia McLaine and they had 5 children: Scott, Kevin, Jon., Tricia, and Alan. In his later years, Fern Masselli was his loving partner.
He is survived by his children: Lynda Foisy of Stoneham, MA., Ken Foisy, Jr. and his wife Pat of Lewiston, Dr. Scott Foisy and his wife Lisa, Kevin Foisy, Jon Foisy, Tricia Tremble and her husband Paul, Alan Foisy and his wife Tobi and many grandchildren.
His family wishes to thank the staff at Central Maine Medical Center, the Lewiston-Auburn Kidney Center and the Hospice House for their care.
To the end, Ken retained his wit and wry sense of humor: "Oh well, what the hell."
At his request, there will be no services.