« Obituaries | Carol H. Flynn
Carol H. Flynn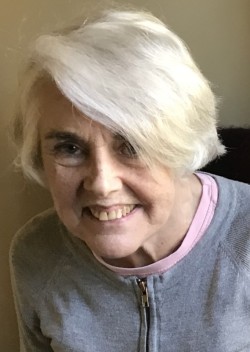 Date of Death: March 16, 2023
Date of Birth: July 29, 1945
Biography:
Carol Houlihan Flynn died peacefully at the age of 77 on March 16, 2023 in Topsham, Maine, where she lived with her husband, David Tarbet.
Born on July 29, 1945 in Chicago, Illinois to Arthur T. Houlihan and Mildred D. Uminger, Carol was a proud resident of the South Side. She was lovingly protective of her younger brother, Tom Houlihan (Patty Houlihan), with whom she enjoyed roaming the neighborhood's tree-lined streets, spending time with friends and cousins and taking ambitious family driving trips.
Carol attended the University of Illinois at Urbana-Champaign as an undergraduate student, obtained a Master's degree from Brown University and completed a PhD at the University of California at Berkeley. Her son, Patrick, and daughter, Molly, were born when she was a graduate student, marking the beginning of thoughtfully balancing her family and career. Carol was a professor of English at New York University and Tufts University, where she taught 18th Century English literature and courses on mapping the streets of London and analyzing girls' books, and participated in community engagement projects with students and colleagues.
She published two academic books, a mystery and a memoir. Carol was deeply committed to scholarship and teaching, and was a champion of her graduate students throughout her career. A devoted partner and friend, Carol was cherished by her husband, David, with whom she shared a passion for literature and travel that brought them to Scotland, where they enjoyed many happy times at their second home, Rose Cottage. Carol connected with people easily wherever she went, and maintained life-long friendships which endured in her memory. She was fascinated by the animals in her life and had a special attachment to her unique Akita, Roxy.
Carol was beloved by her daughter, Molly Stopa (Mark Stopa), and her son Patrick Flynn (deceased) (Kari Flynn). She was adored by her grandchildren Caitlin and Lauren Morissey, Gia, Stella and James Flynn, and Kate, Zoe and Anna Siegel. Carol was delighted by the birth of her great-grandson, Ezequiel Navarro, who was born in 2021. Her step-children, Emily Siegel (Matthew Siegel) and Andrew Tarbet (Laia Marull) were profoundly touched by Carol and David's devotion to one another, which never wavered, right up until the end of her life.
Carol will be missed by all who knew her, including the staff of Governor King Memory Care Center who marveled at her never-ending positivity and appreciation.