« Obituaries | Thomas Wayne Flynn
Thomas Wayne Flynn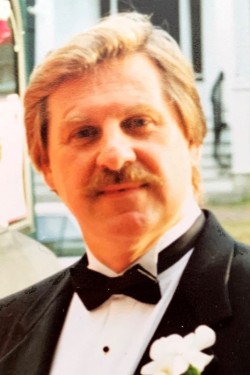 Date of Death: December 31, 2022
Date of Birth: June 23, 1941
Biography:
Thomas Wayne Flynn, 81, a longtime resident of Auburn, passed away on December
31, 2022, after a short but tenacious battle with heart failure. A true warrior, he refused
to give up or be defined by his illness and fought valiantly until the very end. He was
born in Lewiston on June 23, 1941 to Lawrence "Tubby" Flynn and Katherine McIlroy
Flynn. The youngest of five sons, he looked up to and considered his older brothers,
Lawrence "Larry" Flynn, Robert "Bob" Flynn, Brian Flynn Sr. and James "Jim" Flynn, all
predeceased, to be his best friends - a belief he held throughout his life.

Tom spent most of his childhood in Monmouth where he had fond memories of playing
football on the village green in the shadow of Cumston Hall. He got his first job at the
age of nine working as a caddy at Cobbossee Colony Golf Course. A gifted musician,
he always said that he grew up with a trumpet in his hand. A child prodigy, he began
playing at the age of 8. Accompanied by his mother, a concert pianist, the two of them
traveled the state to entertain at various events, including an invitation to play for the
Governor. This led to a scholarship to study at New England Music Camp, an early
experience that made a lasting impression on his life.

President of the graduating class of 1959 at Lewiston High School, Tom also served as
President of the Key Club, President of the Choral Society, President of the Glee Club,
and sang Operetta, starring in multiple theater productions. Captain of the State
Championship Football Team, he played halfback and was Lewiston's leading scorer.
His jersey, #25, was hung on the Edward Little statue in Auburn by his teammates as a
warning for the upcoming Battle of the Bridges football game between the two rival
schools. As promised, LHS walloped ELHS (26-6) and Tom was awarded the
Geiger-Normand Dionne Trophy for being the outstanding player of the game. He was
named to the All-State Football team and received an honorable mention on the
National High School All-Star Football Squad.

An exceptional multi-sport athlete, Tom also excelled at hockey and baseball. He went
on to attend the University of Maine at Orono where he was recruited for football and
baseball. While an injury prevented him from playing football, he became the baseball
team's starting shortstop, earning his "M" letter. While at Orono, he also found his love
of literature and Pat's Pizza. Throughout high school and college, he worked as a
counselor at summer camps, including Wavus Camp for Boys on Damariscotta Lake.
Although Tom was a natural leader, talented musician and outstanding athlete, what he
was most well known for among his friends and classmates was his warm and engaging
personality, his genuine kindness and his helpfulness. Throughout his life, Tom made
friends wherever he went.

After leaving college, he gained local notoriety as the lead singer for Maine's premier
college band, The Citations who frequently played at Serenity Hill in Naples during the
60's. He wrote and recorded several songs including Take Me and Phantom Freighter, a
song he co-wrote with his brother Jim and later won a Maine Country Music Award for. It
was at Serenity Hill that he met the love of his life, Arlene Davis, a pretty redhead from
Auburn. The two were married on March 7, 1964, and over their 58 years together
raised two daughters. After their wedding, the couple relocated to Up-State New York
where Tom began a lifelong career in the educational sales industry. During the Vietnam
War, he enlisted in the United States Army Reserves in the 98th Infantry Training
Division of Rochester, NY. He served his country for six years with the rank of Sergeant
where his mission was preparing and training thousands of soldiers for combat. He was
also the leader of his platoon. In the early 70s, they returned to Maine and settled in
Auburn, calling it home for the remainder of his life.

A dedicated long distance runner and early pioneer of the sport, Tom was a proud
member and past president of the Androscoggin Harriers Running Club. For nearly two
decades he trained for and ran in countless road races and completed ten marathons,
including the Boston Marathon in 1983 with a finish time of 3:20:10. He was honored to
have his wife, children, father, brother Brian and nephew BG there to see him climb
Heartbreak Hill and cross the finish line in Copley Square, which he described as the
single greatest athletic accomplishment of his life. When he wasn't running, Tom
enjoyed spending time on the golf course and went on to win a Maine Amateur Golf
Tournament at Springbrook Golf Club.

A true romantic, he loved writing poetry, singing, literature, classical music, antiques,
textiles, chess, long drives through the country, family history and genealogy - he was
very proud of his Scottish heritage and Irish ancestry. A natural performer, Tom sang
and played his trumpet for many years at numerous venues and events across the
state. In fact, he rarely missed a day of practice in over 72 years. He also starred in the
Community Little Theater's production of Mame and served as the lead trumpet in the
Oxford Hills Community Broadway Musical, Swing. Tom was also an avid reader and
book collector, he loved the art of the hunt and spent many hours in search of rare and
first-edition books. Over the years he amassed a collection that he was quite proud of
and would put most small bookstores to shame.

He had a big heart and was incredibly loyal to his family. If you found yourself in a jam,
Tom was your "go-to" guy. He considered his son-in-laws his own sons and relished his
time with them, playing golf, watching ball games, camping in the White Mountains,
taking part in bocce and Jarts tournaments and other shenanigans at the family camp
on Taylor Pond, which he loved. He also looked forward to his regular trips south to
spend time with family in Georgia and at the beach in WaterColor, Florida, as well as
attending baseball games at Turner Field and Truist Park cheering for the Atlanta
Braves.

Tom is survived by his wife Arlene Davis Flynn; his daughter Kathleen Flynn Bartle and
son-in-law Brad Bartle, and granddaughters, Hannah and Grace Bartle of Peachtree
Corners, Georgia; and his daughter Erin Flynn and son-in-law Shawn Rice, and
granddaughter, Acadia Flynn-Rice of Auburn. He will be forever loved and missed.
The family extends a heartfelt thank you to Nurse Jeremy on SCU 1 at Maine Medical
Center who went above and beyond to help care for Tom during his time there, as well
as the staff at Androscoggin Home Care & Hospice, particularly Barbara, Carrie and
Chris.

A celebration of Tom's life will be held for family and friends this summer at Taylor Pond
followed by a private burial at Mount Auburn Cemetery. Contact the family for details at
twflynn1941@gmail.com if you are interested in attending.
In lieu of flowers, donations in his memory may be made to the New England Music
Camp Alumni Fund Scholarship program to support campers who otherwise would not
be able to attend. https://snowpond.org/support