« Obituaries | Esther A. Field
Esther A. Field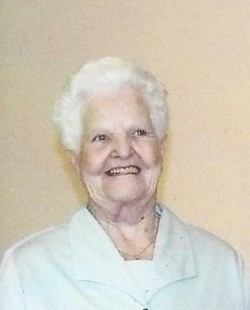 Date of Death: August 5, 2013
Date of Birth: April 9, 1933
Biography:
Esther A. Field, 80, of Greene, Me passed away on August 5th, 2013 at the Hospice House in Auburn.
Esther was born in Lewiston, on April 9th, 1933 to parents Prentice and Dorothy (Bragdon) Turner.  She was a supervisor with the U.S. Census Bureau for 20 years and for many years she did food marketing.
Esther was a member of the Nazarene Church in Leeds.  She enjoyed gardening, cooking, spending time with her grandchildren and great grandchildren, and family gatherings; Christmas was her favorite.
Esther was predeceased by her parents, a sister, two daughters and two granddaughters.
She is survived by her husband Ray Field, three sons; Stanley Bubier Jr. and his spouse Pamela, Sheldon Bubier and his spouse Judy, and Scott Bubier and his spouse Irene, two daughters; Sharalyn Mason and Susan Graham-Bubier, 12 grandchildren, 22 great- grandchildren, and 4 ½ great great-grandchildren.
The family would like to extend many thanks to the Hospice House staff for the special care that they provided.
A memorial visitation will be held at Funeral Alternatives, 25 Tampa St, in Lewiston from 11am to noon on Friday, August 9, 2013 with the memorial service to follow the visitation at noon.  The Committal service will follow the memorial service at the New Valley Cemetery, on Route 100 in Greene.
In lieu of flowers, donations may be made to Androscoggin Home Care & Hospice, 15 Strawberry Ave., Lewiston, ME  04240