« Obituaries | Judy Farr (Kimball) Field
Judy Farr (Kimball) Field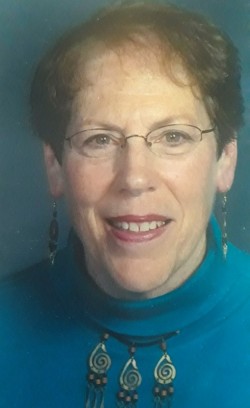 Date of Death: October 6, 2018
Date of Birth: April 14, 1943
Biography:
JUDY FIELD 1943–2018
Judy Farr (Kimball) Field, age 75, passed away on October 6th, 2018 in her home at the Ocean View retirement community in Falmouth, Maine surrounded by her son, daughter and sister. She had been diagnosed with pancreatic cancer early July.   
Born in Bangor, Maine on April 14th, 1943, Judy moved at 6 months to eastern New York but was always proud to claim her place as a true Mainer and has regularly been drawn back to Maine throughout her life. After receiving a degree in Psychology from the University of Maine, Judy found her calling as a teacher and earned a Masters in the Art of Teaching, also from the University of Maine.
Her teaching experiences varied from a tiny schoolhouse in Shutesbury, MA to 25 years serving the Westerville School District outside of Columbus, OH as an elementary school teacher and a math teacher in middle and high schools, to teaching remedial math to adults at Columbus State and Southern Maine Community Colleges. The multitude of thank you letters from students and glowing recommendations from administrators we found in her belongings attest to her gift and the numerous lives she enriched.
She was also a cherished member of the First Unitarian Universalist Church of Columbus, OH where she was an active member of the choir and served on countless committees until 2010 when she moved to Falmouth, ME and enjoyed singing the Allen Avenue UU church choir.Judy was a curious, funny, dependable and grounded individual who was an excellent listener and empath. All who knew her will continue to carry her deep kindness in their hearts and the joyfulness of her positive spirit in their step. She will be deeply missed by her son Ethan Contini-Field and grandchildren Reuben and Ember Contini-Field of Somerville, MA, her daughter Andrea Field and granddaughter Isabelle Montarnal of Paris, France, her sister Lynn Kimball of New Harbor, ME and her ex-husband and the father of her children, Michael Field of Farmington, ME as well as many extended family members and a large circle of friends across the country.
A memorial service will be held at Ocean View Retirement Community in the Hilltop Room at the Main Lodge, 20 Blueberry Lane, Falmouth, ME 04105 at 2pm on October 28th.In lieu of flowers, donations may be made in Judy's name to the following organizations:
Unitarian Universalist Service Committee https://www.uusc.org/ways-to-give  or to
Resident's Assistance Fund at Ocean View retirement community. Checks should be made out to 'OceanView Resident Assistance Fund' and sent to OVRAF at OceanView, 20 Blueberry Ln., Falmouth, ME 04105.