« Obituaries | Nancy Joy Fergusson
Nancy Joy Fergusson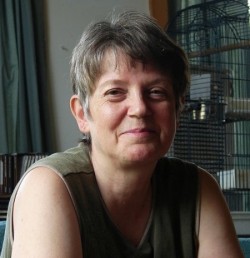 Date of Death: January 7, 2010
Date of Birth: August 27, 1949
Biography:
Nancy Joy Fergusson, 60, of Whitefield, died January 7th, 2010 at MaineGeneral Medical Center in Augusta after a 6-month battle with cancer.  Born in Linz, Austria as Nancy Joy Bell on August 27th, 1949 to Francis (Hooper) and William Bell, Nancy grew up in Cape Elizabeth, Maine with her three brothers.  She graduated from Cape Elizabeth High School in 1967 and obtained a Bachelor of Science in Education from the University of Maine at Portland in 1971.  She married George Fergusson on May 19th, 1979, at which time she moved onto the Fergusson Family Farm in Whitefield, Maine.
Nancy was a strong and impassioned woman with a great many interests that she involved herself in over her lifetime.  She worked as a teacher and librarian in her younger years; she later became a licensed massage therapist and Tai Chi instructor and earned a blackbelt in Kempo Karate.  In her later years, she worked as a patient registrant at MaineGeneral Medical Center and found solace and friendship within the Calvary Bible Baptist Church.  She was a seeker of knowledge; she never stopped learning throughout her whole life, and she freely passed her knowledge on to many people.  She loved gardening and being outside in nature, and became involved with beekeeping in 2005.  She loved being around children, and found immense joy in the arrival of her grandson in 2009. 
Nancy is survived by her mother and step-father Francis and Roger Dolan, of Cape Elizabeth; her brother & sister-in-law Gordon & Sally Bell, of Tenants Harbor; her brother Daniel Bell, of Cape Elizabeth; her brother & sister-in-law Steven & Mary Dolan, of South Portland; her husband George Fergusson, of Whitefield; her son & daughter-in-law Colin & Alissa Fergusson, of Hallowell; her daughter & son-in-law Elizabeth & Jason Dmitrieff and her grandson Robin Dmitrieff, of Whitefield; her sister-in-law Jean Fergusson, of Whitefield; her step-aunt Beatrice (Dolan) Potenzo, of Cape Elizabeth; her cousins Reggie Conohan, Daniel Conohan, Anthony & Norma Potenzo, Joanne (Potenzo) & George Freeman, and Dory Freeman, all of southern Maine.
A memorial service at the St. Denis Parish Hall in Whitefield will be held on Saturday, January 16th at 1:00 in the afternoon.  Donations in Nancy's memory may be made to the Harold Alfond Center for Cancer Care.