« Obituaries | Shannon Farwell
Shannon Farwell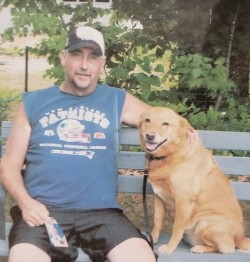 Date of Death: December 21, 2021
Date of Birth: May 8, 1958
Biography:
Shannon Farwell, 63, of Lewiston Maine, passed away on December 21 after a short illness. Shannon was born in Casablanca, Morocco, Africa on May 8, 1958 to Norman and Thelma (Swank, Boysel) Farwell. Due to his father being in the military, Shannon lived in many different places, including Guam when he was a child. The family eventually settled in Maine where he attended Gray-New Gloucester Schools graduating from high school in 1976. Shannon had a passion for the outdoors, enjoying hunting, fishing, and ice fishing. Shannon also loved his animals especially dogs having several over his lifetime who were very special to him. Shannon worked as a stone mason for most of his adult life, working for American Concrete, and Gagne and Son. Shannon did various masonry jobs around Maine often telling his children and grandchildren, "I put that step in" or "I built that chimney" when passing different masonry jobs he had done. At the time of his passing, Shannon was working for Globe Manufacturing. For anyone that has ever known Shannon, he has been described as fun, loving, kind, laidback, warm-hearted, a jokester, hilarious, and someone that would give you the shirt off his back. Shannon will be missed dearly by all who knew and loved him.
Shannon is predeceased by his parents, Norman and Thelma Farwell; brother Daniel Boysel, sister Sylvia Chadbourne, sister Regina Crosby. He is survived by his partner Kathleen Lacourse of Lewiston; his children, Kimberly, Jessica, and Todd and his grandchildren whom he adored, Ryan, Dylan, Devon, Carolyn, Alyssa, Shelby, Rylee, and Mya. Shannon is also survived by many nieces and nephews that live in Ohio who will miss him dearly.
A Celebration of Life will be held with the date, time, and location to be determined.