« Obituaries | Ruth Webber Evans
Ruth Webber Evans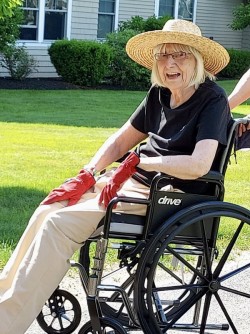 Date of Death: November 15, 2023
Date of Birth: November 12, 1931
Biography:
Ruth Webber Evans (92) of Hallowell, Maine died Wednesday, November 15, 2023
Ruth was born November 12, 1931 in Scranton, PA to Agnes Webber (nee Wagner) and Russell Webber.
An accomplished artist and poet, the burgeoning women's movement led her to join the Arlington Street Women's Caucus in the 1970s.The Caucus, a women's singing group, performed throughout the area with Ruth, a non-singer, reciting her poetry between songs.
A lifelong learner Ruth received a BA in Communications from the University of Southern Maine while in her 50s and a Masters of Poetry from the Vermont College of Fine Arts while in her 70s.
In the 1970s Ruth and a friend launched a local newspaper, The Ledgemere Bridge, in Lake Arrowhead in Waterboro, ME. The paper ran for four years until Ruth left the area.
Ruth was married to her husband, Owen Glendower Evans, for 61 years. They raised four children along with numerous pets, moving eight times and building increasingly complex and beautiful gardens at each home. An avid gardener, she joined the garden club in Farmington, Maine and created a gardening show, 'The Dirt Gardener', on the local television station.
It was also after moving to Farmington that she and Glen began hiking seriously, climbing all the Maine 4000 footers and the NH Presidential traverse with their son Warren.
Ruth is survived by her four children, Owen Glendower Evans jr., Russell Ellis Evans, Elizabeth Wharton Evans and Warren McKean Evans; their spouses, Deborah Wendy Evans, Elizabeth Fitch Evans, Geoffrey Jon Ransom and Patricia Ann Rodrigue; her grandchildren, Nicholas Glendower Evans, Alexander James Evans, Kathryn Edwina Evans, Zoe Elizabeth Evans, McKean James Evans, Elizabeth Riley Evans, Garrett Glendower Coler and Sarah Atlee Coler , her great grandchildren, Oliver Glendower Evans, Rooney May Evans and Lily Michelle Evans and many loving nephews and nieces.
A memorial service will be held Saturday, November 25 at 11:00 at Granite Hill Estates, Hallowell, Maine.