« Obituaries | Owen Glendower Evans
Owen Glendower Evans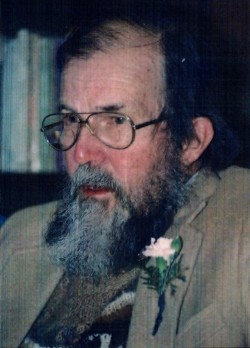 Date of Death: August 30, 2018
Date of Birth: October 27, 1925
Biography:
Owen Glendower Evans, 92, of Hallowell, ME died peacefully in his sleep on August 30, 2018 at his home.
Glen (as he was known) was born October 27, 1925 in Villanova, PA to Rowland Evans and Elizabeth Wharton Evans (nee Downs). Glen attended the Haverford School and Yale University before serving in France during WWII. After the war he continued his education at Penn State earning a degree in Meteorological Science. A lifelong lover of weather, he kept records since the age of 12 and worked for the National Weather Service for over 30 years in offices in Alaska, Pennsylvania, Massachusetts and Maine.
Glen enjoyed the outdoors, hiking all the ME 4000 footers and the NH Presidential traverse with wife Ruth and son Warren. He loved snowstorms and was a world champion sled run builder. He cherished his time spent at Camp Bellevue on Upper Richardson Lake. He was smart, funny and kind and will be deeply missed.
Glen is survived by his beloved wife of 61 years, Ruth Webber Evans; his four children, Owen Glendower Evans Jr, Russell Ellis Evans, Elizabeth Wharton Evans and Warren McKean Evans; their spouses, Deborah Wendy Evans, Elizabeth Fitch Evans, Geoffrey Jon Ransom and Trish Roderigue; his grandchildren, Nicholas Glendower Evans, Alexander James Evans, Kathryn Edwina Evans, Zoe Elizabeth Evans, McKean James Evans, Elizabeth Riley Evans, Garrett Glendower Coler, Sarah Atlee Coler , his great grandchild Oliver Glendower Evans and many loving nephews and nieces.
A memorial service will be held Friday, September 7 at 1:00 at Granite Hill Estates in Hallowell, ME.