« Obituaries | Myron L. Estabrook Jr.
Myron L. Estabrook Jr.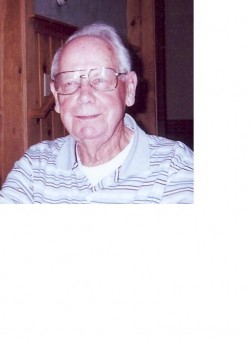 Date of Death: April 16, 2011
Date of Birth: May 27, 1920
Biography:
Myron L. Estabrook, Jr.,90, passed away on April 16, 2011 following a recent illness at MMC.
He was born May 27, 1920 to Myron and Sadie Estabrook of Yarmouth, Maine. He was born at home and spent the rest of his life on that same street living two houses down from the home of his birth in a house he built in 1949 with his wife of 67 years, Pauline Swift Estabrook.
During WWII he served in the Army for over four years having been assigned stateside duty and eventually joining General Patton's 3rd Army in Europe. He was then being prepared for assignment to the Pacific theater when the war ended and he returned home.
Myron was employed by the Yarmouth Water District for 39 years retiring in 1984 as superintendent. He was a Red Sox fan, enjoyed hunting and driving his antique truck. He was a member of the Yarmouth Volunteer Fire Dept and the American Legion. Spending time with his family was what he enjoyed the most.
He was predeceased by his parents; brother Melvin; and sister Opha.
Surviving are his wife Pauline, a daughter Ruth Corbett and her husband Gordon of North Yarmouth, a daughter Jean Webster and her husband Jeff of Yarmouth, his son Timothy Estabrook and his wife Amy of Orono. He also leaves three brothers Leonard and James of Yarmouth, Paul of Parkman and a sister Olive Fuller of Keene, N.H., five grandchildren, one great grandson and many nieces and nephews.
The family would like to thank the staff at MMC for their care and compassion during the final weeks of Myron's nearly 91 years. We are left with many wonderful memories of a good man and the comfort of knowing he is at peace now.
There will be no visiting hours. There will be a celebration of his life at a later date. In lieu of flowers donations may be made to the charity of your choice.