« Obituaries | Richard C. Erskine
Richard C. Erskine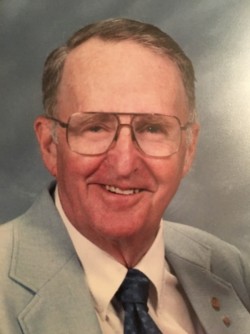 Date of Death: June 15, 2017
Date of Birth: June 29, 1932
Biography:
YARMOUTH—Richard C. Erskine, 84, of Yarmouth, died peacefully on Thursday, June 15th, 2017, at Oak Grove Rehabilitation and Living Center in Waterville, Maine, where he resided for the last several years. He was born in Damariscotta, Maine, on June 29, 1932, the son of Alson and Helen Erskine.

Richard graduated from Lincoln Academy in Newcastle, in 1950, and attended Gorham State Teachers College. He was employed in the Bridge Division of the State Highway Commission for a brief time before working for Central Maine Power Company. In 1952, Richard began as a Turbine Operator at Mason Station in Wiscasset until he transferred to W.F. Wyman Station on Cousins Island in Yarmouth, Maine in 1961. In 1965, he became a Control Room Operator until his retirement after 39 years of service in 1991.

Richard married his wife, Harlene, in 1961, and they celebrated their 47th wedding anniversary just prior to her death in 2008. Together they attended the First Parish Congregational Church in Yarmouth, Maine, and enjoyed volunteering at baked bean suppers and working at the Yarmouth Clam Festival. While raising their two children, Michael and Kelly, Richard enjoyed attending their sports events and activities, and camping with their family on Sebago Lake, and various campgrounds throughout New England and Canada. Michael and Kelly have fond memories of attending Red Sox games at Fenway, and hockey games in Portland. Richard and Harlene were longtime supporters of Yarmouth High School athletics. Long after Michael and Kelly graduated, they were honored by the Yarmouth High School soccer program where they received a Yarmouth Soccer Boosters' Award at the annual soccer banquet. Living right down the street from the high school, they attended a myriad of Clippers' sporting events over the years. Following his retirement, Richard and Harlene enjoyed spending time with their grandsons, Jacob and Ryan Erskine. They actively followed music and athletic activities by traveling throughout the state to attend games and concerts. Richard was a dedicated member of the Royal Arch Masonry for over fifty years.

Richard was an avid reader of American history and especially enjoyed biographies about Dwight D. Eisenhower. His hobbies included collecting stamps and coins, and he never found a New York Times crossword puzzle too daunting.
He was pre-deceased by his parents, Alson and Helen Erskine, his wife, Harlene, his brother, Paul Erskine, his brothers-in-law, Stephen Davis, and Robert Townsend.
He is survived by his son, Michael Erskine, and wife, Louise, of Sidney, and his daughter, Kelly Erskine, of Winchester, Kentucky, grandsons, Jacob Erskine of Bangor, and Ryan Erskine, also of Sidney, his sister, Rebecca Townsend of Edgecomb, and his sisters-in-law, Caroline Erskine, of Wiscasset, Marsha Davis, of Cape Coral, Florida, and Cynthia Holbrook and husband, Randall, of Woolwich. He is also survived by many nieces, nephews, and cousins.

At Richard's request there will be no services. In Richard's memory, donations may be made to MaineGeneral Hospice & Volunteers of Kennebec Valley, P.O. Box 828, Waterville, Maine, 04903-0828. The family would like to extend special thanks to the nurses at Oak Grove Rehabilitation and Living Center and to the MaineGeneral Hospice staff for the care and kindness shown to Richard Erskine.