« Obituaries | Walter N. Ernst
Walter N. Ernst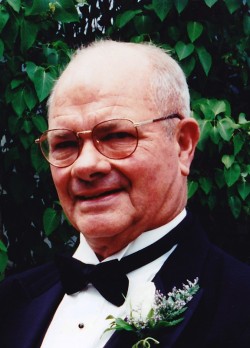 Date of Death: April 4, 2012
Date of Birth: July 22, 1931
Biography:
OAKLAND, ME - Walter N. Ernst, 80, loving husband of Susan J. Ernst, died April 4, 2012 at Thayer hospital, Waterville, Maine.
He was born in 1931 at Hagerstown, Maryland, the son of Walter N. Sr. and Alma Marie (Beard) Ernst. He was raised in Richmond, Virginia and Baltimore, Maryland, and was a graduate of Baltimore City College and the University of North Carolina. At UNC he was inducted into the Order of the Old Well scholarship society, lettered in varsity lacrosse for 4 years, and was a member of Alpha Tau Omega fraternity.
After serving as a junior officer in the U.S. Marine Corps, 1953-1956, he began his career in advertising with the J.Walter Thompson Co. in New York City. From 1960 to 1964 he was a production assistant and associate producer with ABC Television in New York City. He also co-produced several off-Broadway and off-off Broadway plays during this period.
He came to Maine in 1964 as an account manager with the Ad-Media advertising agency in Augusta. From 1966-1969 he was a public relations representative for Central Maine Power Co., and from 1969-1983 director of public relations and development for Thayer Hospital, and after its merger with Seton Hospital, for the Mid-Maine Medical Center in Waterville. Thereafter he was self-employed as a public relations and fund-raising consultant and worked for the U.S. Department of Labor as an economic assistant with the Bureau of Labor Statistics, retiring in 1993.
He was accredited by the Public Relations Society of America and the New England Association of Hospital Development.
Walt was an avid skier at Sugarloaf USA for over 40 years, past president of the Abnaki Ski and Outing Club, past commander of the Kennebec River Sail & Power Squadron and an honorary life member of the United States Power Squadrons. He taught adult education courses in seamanship and navigation in adult education programs in Augusta, Waterville and other central Maine high schools for 35 years. In his retirement years he spent summers at Sandy Neck in Barnstable, Mass., a barrier beach on Cape Cod, where he had been a director and president of the Sandy Neck Colony Association.
He was a communicant at St. Mark's Episcopal Church in Augusta and served on its vestry and as junior warden for many years.
Surviving are his wife Susan of 47 years, two sons: Christopher "Skip" Ernst and his wife Rachel of Sidney, James Ernst and his wife Tonia of Westbrook, and two grandsons, Evan and Pierce Ernst of Windham.
A memorial service will be held at St. Mark's Church, Augusta, on April 21st at 2:00pm. Donations in Walt's name may be made to the Sandy Neck Colony Association Legal Fund, C/O Pam Brown, PO Box 729, 82 Lombard Ave, West Barnstable, MA 02668