« Obituaries | Madge Louise Elwell
Madge Louise Elwell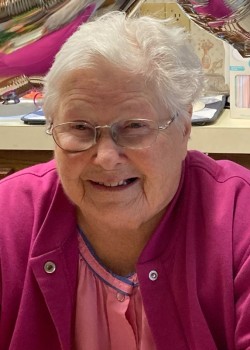 Date of Death: January 6, 2023
Date of Birth: March 11, 1926
Biography:
TURNER — Madge Louise Elwell, 96, of Turner, died peacefully on January 6, 2023, at the Androscoggin Hospice House in Auburn, Maine with her family at her side. Born in Bartlett, New Hampshire on March 11, 1926, to Lawson R. and Louie C. (Abbott) Armstrong, she was the eldest daughter of five children. Madge was born a preemie, weighing just under three pounds, and she spent her early life in a bureau drawer because she was so small.
Moving to Bath, Maine at a young age, Madge grew up in the Bath Schools and loved to pantomime and sing with her sister in church. Weekly, the pair would sing a duet for a live, Christian, radio program for WCOU in Lewiston. Madge enjoyed being in the Girl Scouts and was part of a group of girls who served tea in the governor's mansion. As a young girl, Madge worked summers in the corn factory in South Paris and then the Rose Woven Label Company in Lewiston. Although these jobs were hard work, they were also meaningful and fulfilling, and she would often share funny stories from her time there.
Madge was devoted to her family, always seeking jobs that would allow her to remain in the home. In the sixties, she was involved with the Lewiston-Auburn Children's Home, and when needed, she would care for many children in her home, fostering dozens of children over the years.
Madge served as a Nurse's Aide for both Pease Nursing Home and Clover Manor, becoming an indispensable caregiver for her many patients. Madge was encouraged to use her talents with Androscoggin Home Health, for whom she worked until retirement.
Retirement could not slow her down, and for several years she worked for Mr. Bob's and for L&P Variety, both in Turner, using her cooking talents to make homemade biscuits and baked beans every Saturday.
Madge was a passionate crafter, crocheting or knitting dozens of afghans, mittens, hats, and scarves for her loved ones and making many other special gifts over the years. In more recent years, Madge enjoyed her computer, searching for and printing off hundreds of recipes that she wanted to try and playing games, especially Solitaire. In 2007, she discovered email and Skype, and from that time forward, rarely used the phone, instead preferring to see and talk to her loved ones via that medium.
Madge was pre-deceased by her parents; her husband, Earl; and her siblings — Buddy, Joe, and Florence.
Madge is survived by her sister, Iris Moore, of Westampton, New Jersey and Small Point, Maine; her son, Linwood Armstrong, and wife, Heather, of Newark, Delaware; and daughter, Carmen Douglass, of Turner. Madge is also survived by her grandchildren — Misty, Cassie, Angel, Jeremy, Autumn, and Jesse, as well as by great-grandchildren — Aliyah, Tyler, Lily, George, Evy, Gracie, Justin, Madison, and Aubrey.
The family would like to extend their sincere thanks to her care team – Debbie from Helping Hands, Androscoggin Home Care, and Hospice House for their support, guidance, love, and compassion, especially to Sarah's daughter for providing the little dog stuffed animal for our mom to hold, and cling to it she did.
In lieu of flowers, donations may be made in her memory to the Hospice House, 236 Stetson Rd, Auburn, ME 04210. A gathering and a celebration of life will be held Saturday, January 14th at Funeral Alternatives, 25 Tampa Street, Lewiston, ME 04240, beginning at 1pm until 4pm. A memorial service will also be held in Delaware at a later date.