« Obituaries | James D. Elwell
James D. Elwell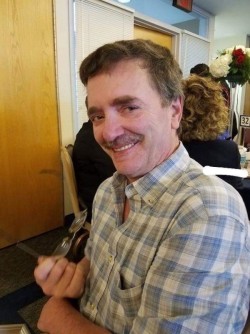 Date of Death: October 18, 2022
Date of Birth: April 25, 1958
Biography:
James (Jimbo) D Elwell Sr age 64 of Topsham, passed away peacefully in his home in Bath surrounded by family and friends after a long courageous battle with Parkinson's.  Jimbo was the oldest of 4 children born to James and Gloria Elwell on 4/25/1958 in Brunswick.
James attended Brunswick Schools until he joined the United States Navy at the age of 17 where he served in Roda Spain after his time in boot camp training. James married Yvonne Bouchard in 1978 and had 2 beautiful children which were the light of his life. James worked as a supervisor at LL Bean until early retirement due to his Parkinson's diagnosis. He continued to work part time caring for those more challenged for Elmhurst in Bath.
Jimbo enjoyed camping, bowling, playing poker and cribbage with his friends and family until the wee hours of dawn! His children and grandchildren were the absolute joy in his life and his reason for fighting Parkinson's for 27 long years! Jimbo attended church at TnT in Topsham and later at The Salvation Army in Bath and Lewiston and loved the Lord!
Jimbo was pre-deceased by his father James M Elwell Jr, his brother Michael D Elwell. He was also pre-deceased by his former Father-in-law Paul Bouchard and Mother-in-law Barbara Bouchard. His former brother-in-law Kirk Bouchard. He is survived by his mother Gloria D. Elwell of Brunswick, A sister and his caregiver Lynn Creamer and her husband Roland of Bath, A brother Keith Elwell of Brunswick, his daughter Captain Jamie Blanchette and her husband Michael of Rochester NH Salvation Army, A son James D Elwell Jr and his partner Lacey of Topsham, 3 beautiful granddaughters Evelena Blanchette, Silver Elwell and Penelope Elwell, 3 grandsons James Elwell, Jensen and Jace Wolfe, also by his former brothers-in-law Keith Bouchard and Terry Smith as well as sister in laws Crystal Letourneau and partner Gary and Debbie Grivois and husband Jerry.  His devoted caregivers Lynn Creamer, Jamie Blanchette Vicky Coyne, Marcia Knowles, Tamara Hills, Mary Gryspeerd, Emily Williams, Kathy Munsey, Caitlin Fien, Shawna Curtis and Jean Flick. He will leave a very big hole in all our hearts until we join him in heaven again!
A day of Celebration and Remembrance will be held on November 5th at The Salvation Army 25 Congress Ave Bath, Me at 1:00pm with a gathering held after in the same location (extra parking is available in the banks parking lot next door). In lieu of flowers donations may be made to The Parkinson's Foundation or The Salvation Army in Bath, Me or Rochester, NH. Bring one of your fondest memories or stories of Jimbo to share! Condolences may be shared at FuneralAlternatives.net