« Obituaries | Margaret Lansing Ekberg
Margaret Lansing Ekberg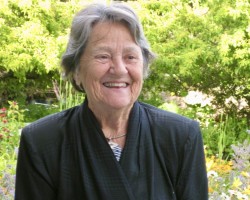 Date of Death: September 3, 2023
Date of Birth: March 16, 1922
Biography:
Margaret Lansing Ekberg (Peggy), a volunteer community organizer, recently of Delray Beach, FL, died Sunday, September 3, at Bay Square in Yarmouth, Maine. She was 101. For the past two years, Mrs. Ekberg lived close to her youngest daughter and son-in-law, Jill and Ken Ryan of South Freeport, ME. Prior to 2020, she lived at Harbour's Edge in Delray Beach, FL. Peggy and her husband, John Paul Ekberg, Jr, lived for many years in St. Louis, Mo and then in Greenwich, CT. Before precautions around COVID interrupted community activities, Peggy organized "empty bowl" fundraisers for her local soup kitchen, volunteered with her local Planned Parenthood affiliate to improve sexual health and education, and supported activities of the League of Women Voters of Florida.
Born in St. Louis, MO, in 1922, Peggy's parents were the late Margaret and AB Lansing, a St. Louis attorney. Her older sister was the late Carolyn Lansing McCluney (Henry) of Vero Beah, FL. Both sisters graduated from Mary Institute, in Ladue, MO. Peggy later graduated from Bennett College in Millbrook, New York, and UCLA.
In 1942, Peggy and Paul Ekberg married. The son of Miriam Evangeline Planche, of Cookshire-Eaton, Quebec, and John Paul Ekberg Sr, of Ystad, Sweden, Paul graduated with two degrees from Yale University in 1939 and 1940. He had a long career in sales and marketing at Monsanto Chemical Company, working in St. Louis, Mo, Washington, D.C., and Pasadena, CA. The couple had three daughters, Marla, Susan, and Jill, and a son, John Paul III.
In 1958, while living in California, Mrs. Ekberg miraculously graduated from UCLA Summa Cum Laude and Phi Beta Kappa. "Miraculous" because she was a 36-year-old mother of four young children, took 21 credit hours per semester, and commuted to the university from Pasadena, an hour's trip each way. This dedication to educational excellence and a steadfast work ethic inspired her children to earn 10 graduate degrees, 9 masters and one PhD, and three of her grandchildren to earn 4 masters and one PsyD, collectively.
After raising their children, Peggy and Paul Ekberg retired in 1980 to Gulf Stream, FL, eventually moving to Harbour's Edge in Delray Beach, FL.
While family was central to Peggy's life, sports and service provided Peggy joy and purpose. On the sporting side, the Ekbergs were avid yachtsmen. They sailed a Whitby 42 for over twenty years, adventuring from Florida to Honduras, Helsinki to Stockholm and annual cruises from Florida to Maine. They loved nothing more than sharing adventures with friends, new and old, and sharing their love of the sea and of travel with their family. Mrs. Ekberg was also an avid tennis player who competed until the age of 96. Memories of her fierce competitive spirit, yet always coupled with her warm wit, remain lovingly in her playing partners' hearts and stories. The Ekbergs were members of the Cruising Club of America, Florida Station, the Manalapan Yacht Club of Florida, and of the Gulf Stream Bath and Tennis Club, Gulf Stream, Fl.
Beyond her athletic passions, Mrs. Ekberg was deeply committed to social justice and bettering her community. Throughout her life, she volunteered as a community leader, running everything from soup kitchens to political campaigns. She also ushered at church services and chaired several committees at Bethesda By the Sea, an Episcopal Church in Palm Beach. However, it was Planned Parenthood where Mrs. Ekberg's greatest passion lay. In 2016, Mrs. Ekberg was honored by the South Florida and Treasure Coast affiliate for more than 70 years of volunteer service.
Peggy always rooted for the underdog and directed her tireless energy to heal the world and support everyone in her orbit. Perfectly summing up how she approached life, was what she often told her tennis partners: "Ok, honey, we're down love forty, but don't worry…that's my favorite score!" That is truly how she lived her life and inspired those around her: tireless energy, boundless optimism, positive determination, no matter how long the odds, and always with a twinkle in her eye.
Mrs. Ekberg is survived by three of her four children, Marla Barbin (Ry) of Maui, HI; Dr. Susan Stiritz (Bill), of St. Louis MO and Gulf Stream, FL; and Jill Ryan (Ken) of South Freeport ME. Her son, John P. Ekberg, III, (Barbara) of Greenwich, CT, predeceased her in 2021.
Ten grandchildren survive Mrs. Ekberg: James White II of White Plains, NY; Dr. Rebecca Stiritz Moore (Caleb) of Greenwich, CT. and Delray Beach, FL; ; William Bradley Stiritz of Laguna, CA; Charlotte Stiritz Nagy (Les) of Evanston, IL; Nicholas Paul Stiritz (Gita), of Ross, CA; Nathanial Paul Ekberg (Sarah) of San Francisco, CA and Tess Bremer (Mark), of Stony Brook, NY; Gabriel James Sankey (Pazeet) of Union City, CA; Jordan Nakoa Barbin (Florine) of Maui, HI; Katherine Crandall Ryan (Gabriel Kiritz) of Leavenworth,
Fourteen great-grandchildren also survive her: James White III (Brooke) of Clearfield, UT; Hunter White, White Plaines, NY; Ella, Natalie, and Holden Moore of Delray Beach, FL and Greenwich, CT; Willa and Greta Nagy, and Clara and Felix Auvray-Stiritz, of New York, NY; Asher, Eleanor & Elizabeth Ekberg, San Francisco, CA; Jaedon P. Sankey and Benjamin Sankey, Union City, CA; Walker and Summer Stiritz of Ross, CA; Juniper Kiritz Ryan, Leavenworth, WA; Noelani Margaret Barbin, Maui, HI; Clara Bremer (Mark), of Stony Brook, NY.
A service to celebrate Peggy's life is planned for later this year or early 2024. Those who wish, may make contributions to Planned Parenthood of the St. Louis Region and Southwest Missouri or Planned Parenthood of Northern New England.