« Obituaries | Neal Merle Durgin Jr.
Neal Merle Durgin Jr.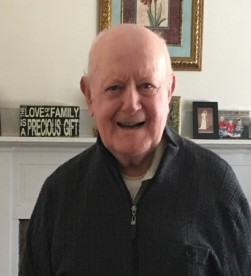 Date of Death: December 31, 2017
Date of Birth: April 14, 1930
Biography:
Augusta-Neal Merle Durgin, Jr., passed away on December 31, 2017. 
Neal was born in Sanford, Maine on April 15, 1930, son of Neal Merle Durgin, Sr. and Evelyn Bilodeau Durgin.  He spent his childhood and adolescence in the Bridgton-Fryeburg area and graduated from Fryeburg Academy in 1949.  He enlisted in the U.S. Navy during the Korean Conflict and served 4 years as an electrician aboard various aircraft carriers.  Under the GI Bill he attended Harding College in Arkansas where he graduated in 1961 and where he met Grace Murphy who would become his wife of 59 years.  Returning to Maine with a growing family, Neal began his career as a public school teacher, first at Leeds Central School and, then, at Buker Junior High School in Augusta.
Neal loved people and served them selflessly.  He volunteered his time through the years to many individuals and organizations including Gander Brook Christian Camp, the Boy Scouts, Meals on Wheels, and the Maine Veterans Home.  As a teacher he was invested in the learning of his students, always looking for an innovative project or illustration to better their education.  He was always thrilled to run into former students in the community and to learn how they were doing.  When Neal knew of a roof that needed repairing or a lawn that needed mowing or a move that needed muscle, he would always show up ready to work.
One was seldom a stranger to Neal for very long.  Nor did one have to be around him long to know that he was a storyteller.  His students knew this and when a history lesson grew a bit too long the request would go up, "Mr. Durgin, tell us a Navy story!"
Next to his wife, "Murphy", the love of Neal's life was "Ralph's Woodlot" in Unity.  For 50 years, his fondest times were spent there - with friends, with the dog, or by himself.  It was his sanctuary.
Finally, Neal was a man of faith.  From his coming to faith as a young man, his life was spent living and sharing that faith.  He was a longtime member of the Augusta Church of Christ and had an influence on believers throughout Maine and New England.
Neal is predeceased by his father, mother and a brother, Clifford, of Kansas.  He is survived by his wife, Grace, and their six children: Albert and his wife, Janet, of Portland; Gloria Piselli and her husband, Mike, of Portsmouth, VA; David and his wife, Cheryal, of Rocky Mount, NC; Jeff and his wife, Helen, of Winfield, WV; Keith and his partner, Danielle, of Fayette; and Gary and his wife, Angela, of Batavia, OH.  Neal is also survived by a sister, Lorna Mowatt of Bridgton and a brother, Edward of Bridgton and by 20 grandchildren and 17 great-grandchildren.
A memorial service will be held at 1:00 on Saturday afternoon, January 13, 2018 at the William S. Cohen Community Center, 22 Town Farm Road in Hallowell with a reception to follow. 
In lieu of flowers, Neal's family encourages donations in his memory to Spectrum Generations' Meals on Wheels program or Gander Brook Christian Camp.
Arrangements are under the care of Funeral Alternatives Group 198 Western Ave. Augusta, Me 04330.