« Obituaries | Jacqueline Monica Dupuis
Jacqueline Monica Dupuis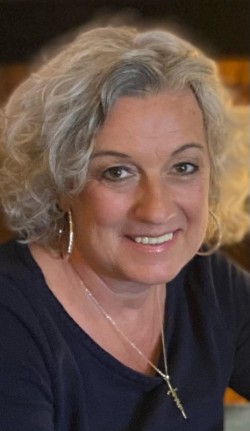 Date of Death: June 17, 2023
Date of Birth: February 13, 1962
Biography:
Jackie Dupuis passed away on June 17, 2023  at her "Happy Place" in Greenville.  In her own words, she was too blessed to be stressed and too anointed to be disappointed! She was truly one of a kind!
She was born in the same room as all her siblings at Miles Memorial Hospital in Damariscotta on February 13, 1962. She lived in Waldoboro and then moved to Gray in 1969, where she grew up, went to school and graduated from Gray-New Gloucester High School. Being a high achiever, she graduated from high school one year early! She always proclaimed that she went to the School of Hardknocks. She lived life to the fullest, always living, loving and learning as she went along. She was the life of the party and loved being the self proclaimed activity director. Jackie loved being outdoors and enjoyed hiking, snowshoeing, gardening, going to the beach, riding her motorcycle and her thirty year career in Mary Kay.  She especially enjoyed the GOMTG, a tradition for many years!  She loved taking pictures, scrapbooking and was always ready for a photo op!  She generously shared her photos with friends and family by gifting beautiful photo albums, scrapbooks, and framed photos.  
Jackie met JD, the love of her life, and they were married on June 19, 1993 at Thuya Garden in Northwest Harbor, Maine.  Jackie and JD did everything together and never missed a family birthday party, graduation, wedding, funeral or holiday event-often hosting the family get-togethers. They were always there for each other and their love and happiness was a joy to behold.  Jackie was a true and faithful believer in Christ and connected on a deep level of compassion and love for each person she met.  She was a natural leader, courageous, driven and dedicated.  She lived her life in service to others, which was proven in her everyday life.
Jackie was loquacious, had a great sense of humor, a contagious bubbly personality and always had fun wherever she went!  She was the favorite auntie to all her nieces and nephews, grandnieces and grandchildren and she got an immense amount of joy from making memories and sharing good times with all these kids!  Whether it was taking them snowmobiling or to the beach, making s'mores or going "moosing", or just hanging out and playing any number of games she had—she loved sharing those times with the kids and they enjoyed every minute of it!
Jackie was predeceased by her parents, Monica O'Toole & Edward Genthner. Jackie leaves her husband, Joseph "JD" Dupuis and his sons, Christopher & his wife, Jennifer Dupuis of Gray, Jeremy & his wife, Kellianne Dupuis of West Paris, grandchildren Christopher & Jonathon.  She also leaves her sisters:  Vicki & husband, Roger Lund of New Gloucester, Valerie Ridley of Bath, Shona & husband, Robert Van Wyck of Raymond, along with her brother, Tom &  wife Laura Genthner of Wilmington, Massachusetts; Nieces and Nephews:  Thomas, Trevor, Monica, Heather, Patrick, Liam, Aidan, Derek, Joshua & Abigail and her great nieces:  Julia & Reilly & great nephew, Hugo. She also leaves many cousins, countless friends, and her church family at East Auburn Baptist Church.  
A celebration of life is planned for July 14, 2023  |  11:00 a.m. at East Auburn Baptist Church.