« Obituaries | William S. Dunning
William S. Dunning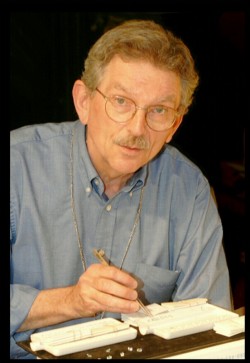 Date of Death: September 2, 2016
Date of Birth: May 22, 1947
Biography:
Brunswick—William S. Dunning, 69, died September 2, 2016. He was Vice President of Daunis Fine Jewelry of Portland.

He is survived by his wife of 42 years, Patricia Daunis-Dunning; their son, Samuel Francis Daunis Dunning of NYC; his siblings, John A. Dunning, Jr. and wife, Cheryl, of Orlando FL; Charlotte Dunning Burgess and husband, James, of Providence, RI and Limington, ME, Fern Dunning-Thoits and husband, Peter, of Gray, ME, as well as numerous nieces, nephews, cousins, and many, many friends.

Although he started school in Bath, he moved back to the family farm on River Road in Brunswick while still in grade school. As a boy, he served as acolyte at St. Paul's Episcopal Church. He developed a keen interest in rock hounding. Bill graduated from Brunswick High School in 1965, where he was in the High School marching band that participated in John F. Kennedy's inauguration, and was active in the drama club and chorus. He was briefly a member of the Bath Buccaneers Drum and Bugle Corps. He was a founding member of The Royal Order of Pheasants (ENC Chapter).

Bill earned a BFA from Rhode Island School of Design in 1969, majoring in sculpture. His studies there led him to welding ships for Bath Iron Works after commencement, as well as preparing him for his later occupation as a fine jeweler. He worked as a wine representative for Cumberland & York Distributors and Nappi Distributors, which enabled him to him to travel to Italy and France.

Metalsmith, sculptor, painter, and accomplished musician, he thought swimming was, "staying alive in the water," preferring to sit on the beach with his guitar or kayaking while others swam. He enjoyed walking in the woods and birdwatching. Bill embraced the Scottish part of his heritage; he loved wearing the kilt and having just a wee dram on a cool evening.

More than twenty years ago, Bill initiated an annual Fourth of July celebration for family and friends that became a must-attend event with parade, children's games, grilled burgers and dogs and, more recently, a baseball game played using 1890 rules.

A Celebration of Bill's life will be held at 1:30 pm, September 18th at the Morrell Meeting Room of the Curtis Memorial Library, 23 Pleasant Street, Brunswick.

In lieu of flowers, please donate to the Goodwill Advancement Office, 75 Washington Ave., Portland, ME 04101, or Valley Zendo, 263 Warner Hill Rd., Charlemont, MA 01339.