« Obituaries | Clarissa V. Dundon
Clarissa V. Dundon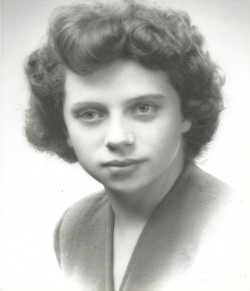 Date of Death: May 31, 2017
Date of Birth: December 27, 1924
Biography:
YARMOUTH - Clarissa Vanderbilt Dundon, 92, died peacefully on May 31, 2017, at the Brentwood Center in Yarmouth. She was born Dec. 27, 1924, in Stratford, Conn., the daughter of Florence (Lewis) and Merritt David Vanderbilt.

After graduating first in her class at Stratford High School, she entered Mount Holyoke College at the age of 16, where she majored in chemistry. It was during World War II, and during her junior year, she was recruited into a secret Navy program training a small number of young women in cryptanalysis, so they could join the war effort after graduation. She was forbidden to talk about the sessions to anyone, and had to burn her papers before leaving the classroom. Unfortunately, when she graduated from college at 19, she was too young to be immediately commissioned by the Navy into the program.

Instead, she went to Yale University, where she worked as a researcher on a wartime project. Once the war was over, she stayed at Yale and entered the Ph.D. program in chemistry. Part of her responsibilities was to teach the chemistry labs. One of her students was Walter B. Dundon Jr., a Navy commander, recently returned from the war in the Pacific. On Oct. 5, 1945, they were married in the Yale Chapel.
They bought a 50-acre farm in Killingworth, Conn., where they had chickens, sheep and horses; and raised two daughters, Martha and Priscilla. In later years, they opened a real estate business there called Wolf Meadow Associates, which they ran together for 20 years. Their last years in Killingworth were spent in an antique Cape they bought on Roast Meat Hill Road, where Clarissa had a spectacular perennial garden.

Clarissa was very involved in her community and in politics. She was twice elected selectman of Killingworth and served on the zoning board. She was also a member of the Conservation Committee and was the president of the Killingworth Historical Society. She was Republican state central committeewoman for the district, and on the campaign staff of John Alsop when he ran for governor. She gave a nominating speech for him at the state convention.

She was also an active member of the Madison Beach Club and served as the president of the board of trustees of the Madison Country Day School, where their girls were students.

In 1985, Clarissa and Walter bought a second home in Waldoboro, to be nearer to their daughter Martha's family. There they raised sheep, goats and ducks, and had a huge garden. They moved there permanently in 1989, and in 1991, Walter died at home, after 45 years of marriage.

Six years later, Clarissa bought a beautiful, big federal house in Bristol, complete with barns for her animals and room for the antique shop she had always dreamed of running. She and her daughter, Priscilla, opened Vanderbilt and Dundon Antiques in 1998 and enjoyed great success for ten years. They particularly enjoyed all the people who came by from around the country to see their shop and to buy antiques.
Clarissa was always interested in American history. She particularly enjoyed collecting antiques, and books about antiques and history. She also restored four Early American houses.

Clarissa was predeceased by her husband, Walter; her daughter, Priscilla; and her sister, Esther. She is survived by her daughter, Martha Dunlap, and her husband Mark, of Yarmouth; four grandchildren: Nathan Dunlap, and his wife Jessica, of Burke, Va.; Amos Dunlap, and his wife Corina, of Portland, Ore.; Lucas Dunlap, and his wife Melissa Jacquart, of Philadelphia, Pa.; and Maggie Keeshan, and her husband Connor, of Old Greenwich, Conn.; and four great grandchildren: Sawyer, Quinn, Madeleine, and Emilia.

The family would like to extend its sincerest thanks to the wonderful nurses and CNAs at Brentwood Center in Yarmouth. Their dedication, compassion and professionalism will always be remembered with gratitude.

A private family service will be held at a later date.

Arrangements are under the care of Funeral Alternatives, Yarmouth.