« Obituaries | Roland M. Dumont
Roland M. Dumont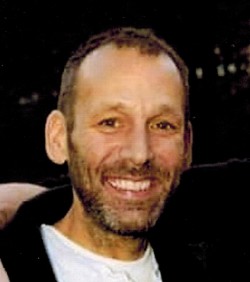 Date of Death: April 7, 2016
Date of Birth: June 17, 1967
Biography:
Roland M. Dumont, 48, of Auburn died on April 7, 2016 at home surrounded by his loving family, after a long, heroic struggle with cancer.
Roland was born in Lewiston, on June 17, 1967, the youngest son of Lucien Dumont and Audrey A. (Hall) Dumont. He attended Auburn public schools, graduating from Edward Little HS, and Central Maine CC with a degree in Building Trades. He worked as a finish carpenter for several local cabinet-making firms, finally becoming the Lunatic Taxman, a tax assessor for O'Donnell.
On June 28th, 1997, Roland married his high school sweetheart, Stacy Smyth. Together, they raised their son Branden, the pride and joy of Roland's life. Stacy passed away from breast cancer in 2005, leaving an enormous void in his life, which he filled spending time with his son and best friend Branden, who enjoyed many aimless drives to nowhere.
In 2008 Roland was diagnosed with cancer. With Dr. Aronson's guidance, treatments were implemented that brought him several happy years of life.
In 2012, he met and fell in love with Donna Thibodeau. She became his fiancé and ally in his struggle, staying by his side through his darkest days.
Roland, an avid outdoorsman, loved hunting and fly fishing with his brothers, cousins and son. He enjoyed learning about spirituality and his place in the Universe.
Roland was predeceased by his beloved wife, Stacy, and his mother and father. He is survived by his son Branden; his devoted, loving fiancé Donna Thibodeau of Auburn; brother William "Bill" Dumont and his wife Laurie of Minot; brother Richard "J.R." Libby and his wife Heidi of Greene; sister Bonnie Gallop and her companion Norman of Lewiston; brother Gordon Libby and his companion Stacy of Lewiston;; father and mother-in-law Jim and Judy Smyth of Poland; brother-in-law Jaime Smyth and his wife Darcy of Lewiston; his beloved dachshund Simba, and several aunts, uncles, nieces, nephews, and cousins.
A funeral service will be held at Grace Lutheran Church on Tuesday April, 12th, 2016 at 11am. Burial will follow services at Gracelawn Memorial Park, 980 Turner St. Auburn Maine.