« Obituaries | Carmen Marie Dube
Carmen Marie Dube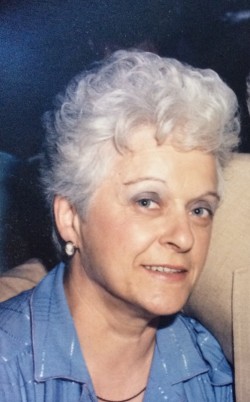 Date of Death: February 19, 2017
Date of Birth: July 10, 1933
Biography:
Carmen Marie (Plourde) Dube, 83, passed away peacefully, surrounded by family, on Sunday, February 19, 2017 at St. Joseph's Rehabilitation and Residences in Portland, ME after a long battle with dementia.
Carmen, the daughter of Fred and Odelie (St. Jean) Plourde, was born in Lille, ME on July 10, 1933.  At the age of 6, her family moved to a farm in Greene, Maine.
Carmen graduated from The Lane School, a one room schoolhouse in the small village of Greene.  She dreamed of being a hairdresser and worked diligently to save money for the privilege of attending Pelletier's School of Cosmetology.  In 1954, Carmen attended school at night and worked as a housekeeper at the rectory of St. Louis Parish during the day. As a new hairdresser she styled hair at Gabrielle's Beauty Salon. She wanted her own salon and this dream became a reality when she owned and operated Blanche's Beauty Salon on Sabattus St. in Lewiston from 1962 to 1967.
Carmen married the love of her life, Armand A. Dube, on September 3, 1956. The two were happily married for 33 years, until Armand's untimely passing in 1989. Carmen and Armand were a team and together, they built a loving home and family of 3 children. They always enjoyed working on their home and garden together, but made sure to "get away from it all" on a regular basis, by camping in Small Point (later in Naples) and traveling on vacations with their children.
Carmen had a wonderful creative side, and in the 1980's she decided to start a ceramic shop in her basement.  In 1987, she and Armand opened AC Ceramics in Lewiston. After Armand passed away in 1989, Carmen returned to her work as a housekeeper, at Clover Healthcare, until her retirement in 1999.
At the center of Carmen and Armand's life was their faith. They were active congregants at St. Peter and Paul's Church until their children Diane and David attended St. Joseph's School. St. Joseph's Parish welcomed them and they became part of the fabric and leadership of St. Joseph's. As a result, their children, Aggie, Diane and David were endowed with a belief in faith and family.
Carmen will be remembered most for her love of family, strong devotion to faith, creative gifts, quite strength, and wonderful personality.  She especially loved babies and often enjoyed caring for and spending time with her grandchildren.  Carmen had a humorous side, which will be lovingly remembered by all who adored her.    
Carmen is survived by her daughter, Aggie Bellevue and husband Chris of Auburn, ME, daughter Diane Dillon and husband Matthew of Gladstone, Australia, and son David Dube and wife Lynn of South Berwick, ME.  She also leaves grandchildren Julianne Bellevue-Smollar of Valley Village, CA, Ben Bellevue of Portland, ME, Melanie and Alisha Dube of South Berwick, ME, and Sierra, Aiden, and Mollie Dillon of Gladstone, Australia.  Carmen leaves her loving and devoted sister, Agathe Poulin of Auburn, ME.  In addition, she leaves numerous nieces and nephews who were very special to her.
Carmen was pre-deceased by her husband Armand in 1989, as well as siblings Alfreda Dumont, Martha Madore, Simon Plourde, Louis Phillipe Plourde, Lucienne Fontaine, and a grandson James Bellevue.
Visiting hours will be held at St. Michael's Episcopal Church in Auburn, ME from 6:00 to 8:00 PM on Thursday February 23, 2017.   A funeral mass will be held at Holy Cross Church in Lewiston, ME on Saturday February 25, 2017 at 11:00 AM. Donations in Carmen's memory may be sent to either St. Joseph's Rehabilitation (Bus or Bust Fund) or the Alzheimer's Association (Maine Chapter).  Addresses are: Saint Joseph's Rehabilitation and Residence, 1133 Washington Avenue, Portland, Maine 04103 or  Alzheimer's Association (Maine Chapter), 383 US Route One, Suite 2C, Scarborough, ME 04074.