« Obituaries | Dana W. Drew
Dana W. Drew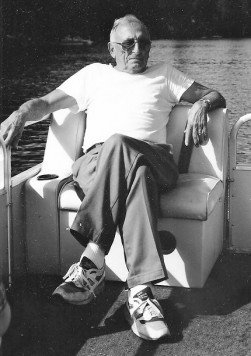 Date of Death: October 29, 2014
Date of Birth: December 8, 1925
Biography:
Dana W. Drew, 88 of Litchfield passed peacefully on October 29, 2014, at the Hospice House in Auburn, with his family at his side. He was a loving, kind, and patient family man.
 Dana was born in Portland, Maine on December 8 1925, the youngest son of Edwin and Mildred. When Dana was young, his family moved from South Portland to Auburn, where he attended local schools. He graduated from Edward Little High School while working full time, in June 1944 and immediately joined the U.S. Army. Dana served as military policeman assigned to transporting German prisoners of war from Boston to POW camps in northern Maine. While stationed at Camp Sibert, Alabama, he had the privilege of being chosen to be part of an honor guard at a railway station during the passage of the funeral train bearing President Franklin Roosevelt's body from Warm Springs, Arkansas, to his home at Hyde Park, New York.
 During his long military career he went on to serve in such positions as a tank operator, commander, and tank operation instructor at Fort Campbell, Kentucky. He was recalled to active service for one year during the period of the Cuban Missile Crisis. From the period of July 1968 until his retirement in November 1974, Dana served as the Army National Guard Sergeant Major at Camp Keyes in Augusta, in the position of Chief Operations Sergeant in the Operations and Training Section of the Maine Headquarters.
 In 1949, Dana married Gloria Hildreth of Lewiston. They had five children. They lived for many years on Court Street in Auburn, before moving to Portland in the 1980's. The family purchased a small summer cottage on Tacoma lakes in Litchfield, where the family would live during the summer months of the children's school vacation. Upon fully retiring in the late 1980's, Dana and Gloria had a year round home built on the sight of this summer camp. Dana performed a great deal of the work on the building of this beautiful home himself. He was an excellent, self-taught, carpenter, electrician, and plumber, and created many pieces of furniture. He especially enjoyed spending time on the water, fishing or boating, whether it was a leisurely cruise on a beautiful sunny summer day, or quiet summer evening or towing water skiers or "tubers". He was very patient ensuring everyone who wanted to learn to water ski was successful. Dana also enjoyed watching sports on television, especially the Patriots.
 His survivors include Gloria, his wife of 65 years, his daughters, Lori of Clinton, Linda and her husband Dennis of Harpswell, his sons, David of Litchfield and Stephan and his wife Sherry of Winthrop. "Papa" loved spending time with his grandchildren Lucinda, Adam, Rachel, Greg, Katie, Sam and Dawson. He also leaves behind eight great-grandchildren and one great-great grandchild. He was predeceased by his brother Ken and son Dana.
 In lieu of flowers, anyone wishing to pay their respect, please do so by making a donation to the Alzheimer's Association at alz.org.
The family wishes to thank Dr. Jeffrey Brown and his staff and Dr. Stephen Gallagher for their kindness and compassionate care.
 Memorial service will be in the Chapman room at GRACELAWN MEMORIAL PARK, on November 10, at 11:00 am for anyone who may wish to attend and honor Dana.