« Obituaries | Gloria M. Drew
Gloria M. Drew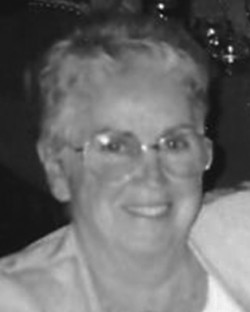 Date of Death: April 16, 2017
Date of Birth: August 24, 1929
Biography:
Gloria M. Drew, 87 of Litchfield passed on April 16, 2017 at Clover Healthcare in Auburn, with her loving family by her side. She was a loving, kind, strong, and generous woman. Family was most important to her.
Gloria was born in Lewiston to Mavis and Winfield Hildreth on August 24, 1929. She grew up in Lewiston and attended schools there.
In 1949, Gloria married Dana Drew. They had five children. They lived for many years on Court Street in Auburn, before moving to Portland in the 1980's. The family purchased a small summer cottage on Tacoma lakes in Litchfield, where the family would live during the summer months. Upon fully retiring in the late 1980's, Dana and Gloria had a year round home built on the site of this summer camp. She enjoyed entertaining family and friends and was a terrific cook. Besides dancing and playing cards, Glo and Dana enjoyed taking moonlight boat rides and listening to the loons.
Gloria loved being outdoors and taking long walks. She enjoyed tending her vegetable and flower gardens, raking leave and shoveling snow. Glo loved to knit mittens for her children, nieces and nephews. She continued knitting and donating the mittens to area schools and the Santa Fund. She enjoyed crocheting baby blankets, baby sweaters, booties and caps for the new babies born in the family and friends.
Her survivors include daughters, Lori of Clinton, Linda and her husband Dennis of Harpswell, her sons, David of Litchfield and Stephan and his wife Sherry of Winthrop, sisters Millie and Natalie, brother Charlie and his wife Nancy and sister-in-law Bess. "Nana" loved spending time with her grandchildren Lucinda, Adam, Rachel, Greg, Katie, Sam and Dawson. She was predeceased by her husband Dana, son Danny, brothers Anthony and Winfield, brothers-in-law Bob, Eddie, Ken and his wife Martha.
The family wishes to thank Tina Rioux for taking wonderful care of Glo so she could remain happy at home for 18 months before moving to Clover. Also, thanks to Clover Healthcare Galway Unit, and Androscoggin Hospice Care team for their excellent care and love.
In lieu of flowers, anyone wishing to pay their respects, please do so by making a donation to the Alzheimer's Association at alz.org.
Gloria will be interred in a graveside service at GRACELAWN MEMORIAL PARK, on April 22 at 11:00 for anyone who may wish to attend and honor Gloria.