« Obituaries | Suzanne M. Doyon
Suzanne M. Doyon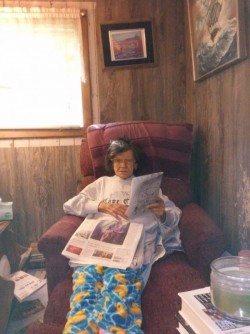 Date of Death: August 15, 2017
Date of Birth: June 25, 1940
Biography:
Suzanne M. Doyon, 77, of Auburn passed away at her home on August 15th, 2017. She was born in Rumford on June 25th, 1940 to parents Daniel and Mary (Voutor) Leblanc.
She graduated from Andover High School, and took one year of college. Suzanne for many years worked in local shoe shops. She enjoyed music and loved to go to bluegrass shows.
Suzanne was predeceased by one son, Gene Reed, and a grandson Michael Reed.
She will be missed by her husband, Leo Doyon; her son Harry Reed; daughter Becky Harris, and a grandson, Jason Harris; and her many friends and beloved pet cats.
Services will be held at Funeral Alternatives, 25 Tampa Street Lewiston, Maine. A memorial service will be held Saturday, August 19th, 2017 at 1pm. Family and friends are welcome to stay for refreshments until 3pm.
Donations may be made in Suzanne's memory to the Greater Androscoggin Humane Society, 55 Strawberry Ave, Lewiston Maine.