« Obituaries | Elizabeth "Betty" P. Douglas
Elizabeth "Betty" P. Douglas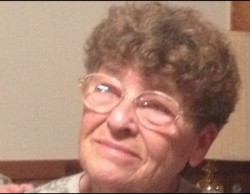 Date of Death: September 23, 2018
Date of Birth: October 9, 1938
Biography:
S. HARPSWELL - Elizabeth "Betty" A. (Palmer) Douglas, 79, of S. Harpswell, passed peacefully surrounded by family after a brief illness at her son's and daughter in law's home in Harpswell at sunrise on Sunday, September 23, 2018. She was born at her Aunt's home in W. Harpswell on October 9, 1938, the youngest of seven to Alfred D. and Mildred (Rogers) Palmer.
She grew up helping in their family's Homestead store in Harpswell. She attended W. Harpswell School until 8th grade, where she was the state of Maine Spelling Bee Champion. While growing up she loved to go to dances at the Merriconeag Grange. She then graduated from Brunswick High School, class of 1956, where she was awarded Best Dancer of her class. On February 2, 1957 she married her devoted husband, Clive H. Douglas, together they shared 54 loving years together.
She started out at Wright Buick on Pleasant Street in Brunswick as a bookkeeper, took time off to raise her family, and then went on to work as a cook at O'Brien's Snack Bar on the Old Bath Road. Betty was a meticulous record and bookkeeper, with this skill she helped run and operate her husband's many businesses, Douglas Sand, Gravel, and Plowing, and The Big Oval Snowmobile Family Recreation Area. She was also employed at Bradley's Department store from 1987 to it's closing. In retirement she and Clive enjoyed many cruises together with various lifelong friends.
Betty's many interests, including tuna fishing in the summer at Mackrel Cove, snowmobiling up north with friends, gardening, playing card and board games, hosting holidays, and cooking for the world. Friends in Harpswell and Brunswick will always remember stopping at Betty's Home Coffee Stop. She was also the Harpswell Cribbage Club Champion.
Her greatest joy was her family, and being a grandmother and great grandmother.
She was predeceased by her parents, her husband, Clive Douglas, her siblings, Arthur, Shirley, Ralph, Irene, Ann, and Russell, and Clive's Aunt Bee.
She is survived by her brother in law, David C. Douglas of Florida, two sister in laws, Jayne Coffin Palmer, and Irene E. Palmer; her three children, Elaine D. Buck, Carole J. Bouchard and husband Edward, and golden boy Gregory M. Douglas and wife Pam; seven grandchildren, Kate (Sam) Preston, Sterling (Sarah) Douglas, Libby (Joe) Rice, Magean (Cliff) Dunham, Whitney (Matt) Boyd, Valarie (Dustin) Buck, and Krystal Douglas; eight great grandchildren, Erin, Colton, Tristan, Rowen, Elise, Bentley, Talia, and Daniel; many nieces and nephews that were like siblings to her, and many lifelong friends.
In lieu of flowers donations may be made in her memory to Harpswell Neck Fire Department, 1426 Harpswell Neck Road, Harpswell, ME 04079.
Please join the family in A Celebration of Betty's Life on Saturday, September 29th, 2018 at 5 p.m. at the Elijah Kellogg Church in Harpswell.